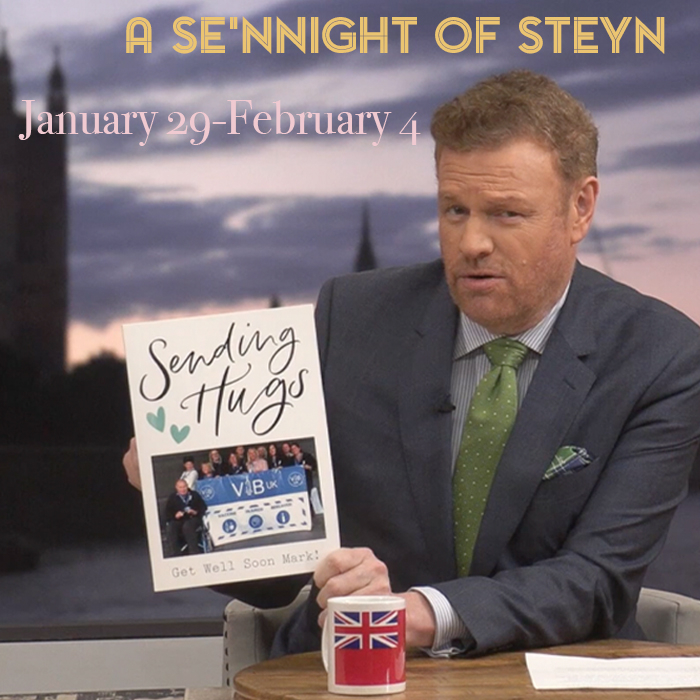 The Mark Steyn Cruise is back – and with no vax/test requirements whatsoever. If you'd like to see the beautiful Adriatic in the company of Steyn favourites Bo Snerdley, Eva Vlaardingerbroek, Michele Bachmann, John O'Sullivan, Alexandra Marshall, Leilani Dowding and more, we hope you'll consider cruising our way.
Meanwhile, in case you missed it, here's how the last seven days looked to Mark:
~The week began with our Song of the Week – and a bona fide standard few singers entirely comprehend.
~On Monday morning, Steyn returned from the grave:
~Mark's Tuesday Notebook rounded up a few reactions to his hostage video, including those from his GB News chums such as the peerless Dewbs:
As he says – He's not dead.

Rest well @MarkSteynOnline & back to full health soon…

— Michelle Dewberry (@MichelleDewbs) January 31, 2023
~On Wednesday, SteynOnline presented the first of a two-part big-picture essay on where we stand on the third anniversary of fifteen days to flatten the curve.
~On Thursday Laura's Links rounded up the Internet from fifteen-minute totalitarianism to death by cake-baking.
~On Friday Mark hosted another Clubland Q&A with questions from Steyn Club members live around the planet on various aspects of our disintegrating world. You can listen to the full show here.
~For his Saturday movie date, Rick McGinnis opted for Clark Gable and Doris Day in Teacher's Pet.
Clubland Q&A is a special production for The Mark Steyn Club, now in its sixth year. If you'd like to join our ranks, we'd love to have you. And, if you have a chum who's partial to classic poems on video or classic fiction in audio, we also offer a special gift membership.
A new se'nnight at SteynOnline begins later today with our Song of the Week.