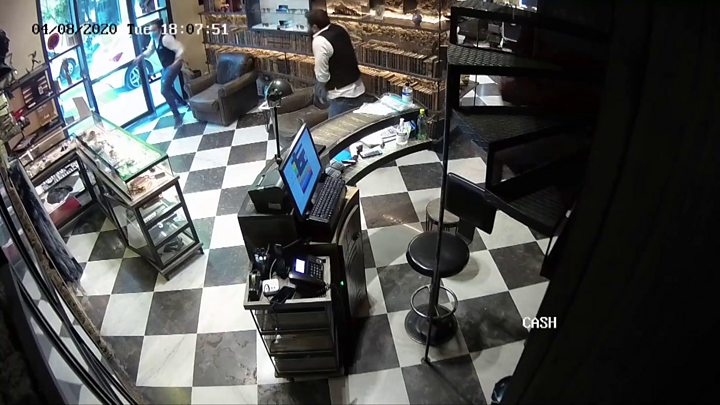 French President Emmanuel Macron has called for quick action to help Lebanon as he opened an international aid summit five days after the devastating explosion in Beirut.
Help needed to reach the Lebanese people efficiently, he said.
US President Donald Trump is among those due to join the online meeting.
Officials estimate the blast at a warehouse, which stored more than 2,000 tonnes of ammonium nitrate, caused up to $15 billion (£11.5bn) in damage.
The explosion left at least 158 people dead, 6,000 injured and 300,000 homeless. It emerged that the ammonium nitrate had been left at the warehouse for six years despite repeated warnings it was dangerous.
The disaster has stoked anger at what many see as the incompetence and corruption of the government amid an economic crisis and the coronavirus pandemic.
On Saturday several thousand people took to the streets, with police firing tear gas at stone-throwing protesters and some demonstrators storming government ministries.
Lebanese PM Hassan Diab, whose government includes representatives of Lebanon's different sectarian groups, said on Saturday that he would ask for early elections as a way out of the crisis.
Information Minister Manal Abdel Samad has became the first minister to resign in the wake of the blast. She cited the failure of the government to carry out reforms and the "Beirut catastrophe" as her reasons for leaving.
What is happening at the summit?
Mr Macron, speaking from his summer residence in southern France, said: "The objective today is to act quickly and effectively to co-ordinate our aid on the ground so that it goes as efficiently as possible to the Lebanese people."
International support should also be given to an impartial, credible and independent inquiry into how the disaster was allowed to happen, he told fellow leaders. Lebanese President Michel Aoun has already ruled out an international investigation.
France is the former colonial power, and Mr Macron was the first world leader to visit Beirut in the days after the blast.
Alluding to Saturday's protests, the French president said it was up to the government "to respond to the aspirations that the Lebanese people are expressing right now, legitimately, in the streets of Beirut".
But he added that neither violence nor chaos should prevail, adding: "Lebanon's future is at stake."
Representatives from European Union member states, China, Russia, Egypt, Jordan and the UK were due to take part in the summit. There are also representatives from the UN, the International Monetary Fund, the Red Cross and the Arab League.
In a statement, the UK said it would pledge an additional £20m in "urgent humanitarian support" at Sunday's talks, on top of a £5m aid package announced earlier this week.
The United Nations has said more than $100m (£76m) is needed for both emergency humanitarian aid, such as food and water, and longer term rebuilding of infrastructure, including hospitals and schools.
In a series of tweets, President Trump said he had discussed the "catastrophic event" in Beirut with Mr Macron and would join the call.
"Everyone wants to help!" he wrote.
A number of countries have already pledged millions of dollars worth of aid and sent ships, health workers and materiel to assist Beirut.
Many homes are without water or electricity, there are growing worries about food shortages, and cases of Covid-19 are spiking in the country – an additional challenge for hospitals which are already overwhelmed.
"The needs are immediate and they are huge," Unicef spokeswoman Marixie Mercado told reporters in Geneva on Friday.
Lebanon is in the midst of its worst economic crisis since the 1975-1990 civil war, with daily power cuts, a lack of safe drinking water and limited public healthcare. Thousands have been plunged into poverty.
The currency collapsed and Lebanon defaulted on its debt in March. Talks with the IMF on a $10bn bailout have stalled.
It is feared that the effect of the explosion on the economy could worsen the prospects of recovery.
What happened at the protests?
Anger brought 5,000 to 10,000 people onto the streets on Saturday.
Skirmishes began early on, with police responding to rocks and sticks thrown by protesters with rubber bullets and tear gas. Live firing was also heard.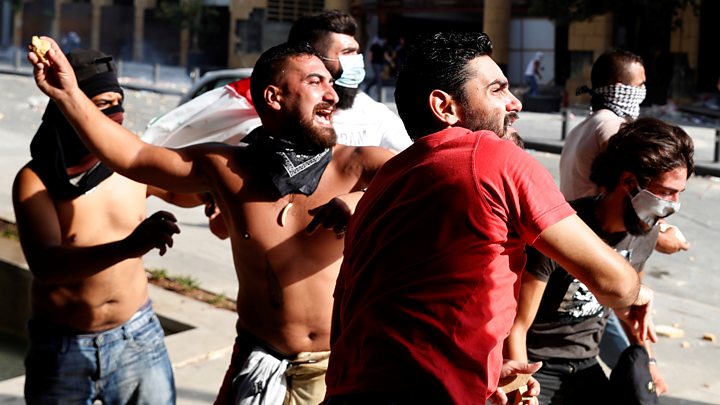 One officer died after falling into a lift-shaft in a hotel, reportedly after being chased there by protesters.
The local Red Cross said it treated 117 injured people at the scene. Another 55 were taken to hospital.
Dozens of protesters stormed government ministries and the headquarters of the country's banking association but have since been removed.
---
Are you in Beirut? How have you been affected by the explosion? Share your experiences by emailing [email protected].
Please include a contact number if you are willing to speak to a BBC journalist.