This is Joan Greve in Washington, taking over for Martin Belam.
A top Army general has banned displays of the Confederate flag on all bases in Korea, according to the military outlet Task & Purpose.
Army General Robert Abrams reportedly said in a memo released early this morning that the Confederate flag "does not represent the values of U.S. Forces assigned to serve in the Republic of Korea."
"While I acknowledge some might view it as a symbol of regional pride, many others in our force see it as a painful reminder of hate, bigotry, treason, and devaluation of humanity," Abrams wrote in the memo.
"Regardless of perspective, one thing is clear: it has the power to inflame feelings of racial division. We cannot have that division among us." Abrams ordered all US commanders in Korea to remove any displays of the Confederate flag.
The memo comes less than a week after Trump said he would "not even consider" renaming military bases named after Confederate generals, which the Pentagon has said it is open to considering.
Mayor Sandy Stimpson of Mobile, Alabama, has confirmed that the History Museum of Mobile has received the statue of Confederate Admiral Raphael Semmes. He says it will be displayed there in a way which places it into "the appropriate historic context"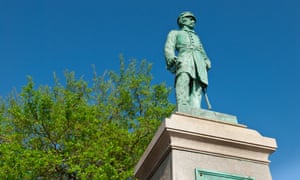 The Semmes statue as it was Photograph: Alamy Stock Photo
The statue had stood on the Mobile waterfront for 120 years until taken down on 5 June. The statue of Semmes, who died in 1977, had been erected in in 1900, the year before Alabama ratified a Constitution that established white supremacy in the state by essentially disenfranchising African Americans and poorer white citizens. It was rededicated as recently as 2000 – with a memorial plaque and ceremony featuring Confederate flags; red, white and blue balloons; and a cannon salute.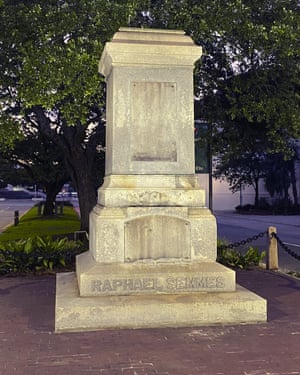 The empty pedestal on 5 June after the statue was removed Photograph: AP
There may yet be legal ramifications from the move. "I have no doubt that moving the statue from public display was the right thing to do for our community going forward" said Mayor Stimpson on Twitter.
However, Attorney General Steve Marshall had sent a letter to the mayor after the statue's removal saying the city could be subject to a $25,000 fine for permanently moving the statue, an action that would violate a state law protecting monuments over 40 years old. Marshall's office has also been pursuing legal actions against the city of Birmingham for removing a confederate monument.
Donald Trump's proposed campaign rally in Tulsa, Oklahoma continues to be dogged by controversy. He's already shifted the date to avoid a clash with the Juneteenth anniversary – and drawn criticism for a disclaimer that says if you catch coronavirus by going to it, you can't blame him.
Overnight the Tulsa World paper has come out with a strong editorial urging the president to abandon his plans altogether, saying "We don't know why he chose Tulsa, but we can't see any way that his visit will be good for the city."
The paper says that once the Trump roadshow has left town, it will be local people who will have to deal with any fall-out from violent protests or the risk of an increased coronavirus spread. It goes on to say:
There's no reason to think a Trump appearance in Tulsa will have any effect on November's election outcome in Tulsa or Oklahoma. It has already concentrated the world's attention of the fact that Trump will be rallying in a city that 99 years ago was the site of a bloody race massacre. This is the wrong place for the rally.
The paper is also reporting how locals are preparing to protest the visit.
"What follows him is a spirit of hate," said Mareo Johnson, pastor at Seeking the Kingdom Ministries and a member of Black Lives Matter in Tulsa who is organising a protest against the Trump visit, because it will increase racial tension in the area around the time of the Juneteenth anniversary.
Johnson said. "Even if he doesn't have those intentions, that's what people get from him. With him coming, it will fuel hate in people."
You can read the editorial in full: Tulsa World – This is the wrong time and Tulsa is the wrong place for the Trump rally
The Associated Press are reporting that Lisa Alexander, founder and CEO of LaFace Skincare, has apologised for her role in a video that went viral earlier this week.
The video showed a couple asking James Juanillo whether he lives in a house, before asserting that they know he doesn't live there, and is therefore breaking the law. Juanillo was stencilling a #BLM message on his own front wall. He says that after the incident, he was visited by a police officer, who recognised him as the owner of the house.
The apology from Alexander came after Birchbox, which distributes beauty products via a subscription service, announced it had cut ties with LaFace Skincare over Alexander's widely condemned "racist actions" in calling the police over the matter.
"There are not enough words to describe how truly sorry I am for being disrespectful to him last Tuesday when I made the decision to question him about what he was doing in front of his home," Alexander said in a statement. "I should have minded my own business. When I watch the video I am shocked and sad that I behaved the way I did."
Juanillo said on Sunday that he would be open to talking with Alexander, who has said she wishes to apologise in person . He said in the last several days neighbours have left flowers and notes expressing support, with many adding further chalk art to the retaining wall and sidewalk.
"For me this experience has left me feeling vindicated and validated. I imagine that she regrets those couple of minutes," he said. "Do I believe that her life should be destroyed over this? No. I just hope that she realises that what she did was racist and she can improve from this incident."
It hasn't just been the high profile shooting of Rayshard Brooks that has outraged the community in the US, but also the way that police forces across the country have in general been dealing violently with protesters in the last couple of weeks.
Hallie Golden has been reporting for us in Seattle on the outrage sparked by a video clip that went viral, showing a police officer firing mace at a family group that included a 7 year old child.
Child pepper-sprayed by police in Seattle is helped by Black Lives Matter protesters – video
The boy's father told the Guardian: "No officer, who's paid to protect, chose to stand up, break the ranks, go help this child. I just don't understand how any of them can sleep."
You can read Hallie's full report here: Outrage over video showing police macing child at Seattle protest
Chris Stewart, who is the attorney for the family of Rayshard Brooks, has also been on television this morning. He raised the issue of the mentality employed by police officers, saying "You can have all the training in the world but if you aren't mentally understanding the community you are policing, if you aren't mentally understanding that the value of someone's life is more important than them running away from you, then all the training in the world won't work"
Watch it here:
TODAY (@TODAYshow)

"It's more mentality because you can have all the training in the world but if you aren't mentally understanding the community you're policing … then all the training in the world won't work. It's a mentality issue." L. Chris Stewart, attorney for family of Rayshard Brooks pic.twitter.com/pjDRIlolr3
CBS News have just tweeted out a video clip of an interview they have with Tomika Miller, the widow of Rayshard Brooks, who was shot by Atlanta police in what has been declared a homicide by medical examiners.
In the clip, Miller says: "If it was my husband who shot them, he would be in jail. He would be doing a life sentence. They need to be put away."
Of the incident itself, she said, "Even though everything happened so fast, it wouldn't take nothing but a split-second for the other officer to say 'Hey, calm down'. He could have told his partner 'Calm down'"
You can watch it here:
CBS News (@CBSNews)

FIRST ON @CBSNews: Tomika Miller, wife of Rayshard Brooks, who was fatally shot by Atlanta police at a Wendy's, tells us the officers "need to be put away."

"If it was my husband who shot them, he would be in jail. He would be doing a life sentence."
Ahead on @CBSThisMorning. pic.twitter.com/IqZ6Qiz5Pf
David Sirota has written for us this morning on what he sees as the hypocrisy of Republicans who loudly criticise the "De-fund the police" movement that has swelled in recent weeks following the death of George Floyd – but who routinely de-fund the "police" that are meant to keep people safe in many areas of the economy.
Citing Republican cuts to agencies like the US Chemical Safety Board, the Consumer Financial Protection Bureau and the Public Company Accounting Oversight Board among others, Sirota says:
Apparently, we're expected to be horrified by proposals to reduce funding for the militarized police forces that are violently attacking peaceful protesters – but we're supposed to obediently accept the defunding of the police forces responsible for protecting the population from the wealthy and powerful.
Read it in full here: Republicans are hypocrites. They happily 'de-funded' the police we actually need
Overnight protesters have torn down a statue of Thomas Jefferson outside a high school that bears his name in North Portland, Oregon.
The school was the starting point for a 1,000 strong Black Lives Matter protest on Sunday evening. The statue was still intact at that point, and reports suggest it was pulled down by a smaller group after the main march had departed.
Jefferson was the third president of the US. He owned over 600 enslaved people during his life, and earlier in the day, the statue's pedestal had been defaced with graffiti identifying Jefferson as a slave owner.
Over the weekend protesters also removed the Pioneer Mother and the Pioneer Man statues outside the Johnson Hall at the University of Oregon campus.
There's a couple of stories that are breaking at the moment – one is that a US Air Force F15C fighter aircraft has crashed off the coast of England near Middlesbrough. The status of the pilot is not yet known.
Welcome to today's live coverage of US politics and Black Lives Matter protests. Here are some of the key points from yesterday and overnight, and what we can expect to see later on.
The president is back from his weekend golfing trip, during which he claimed that the 'radical left' has 'taken over' Seattle. He will have lunch with VP Mike Pence before hosting a roundtable at the White House on "Fighting for America's Seniors". Mike Pompeo is due to talk to European Union foreign ministers.
Joe Biden is at a fund-raising event – while his potential pick for running mate Sen. Kamala Harris is talking at the National Urban League conference.
You can get in touch with me on martin.belam@theguardian.com – I'll be here for a couple of hours before handing over to my East coast colleagues.