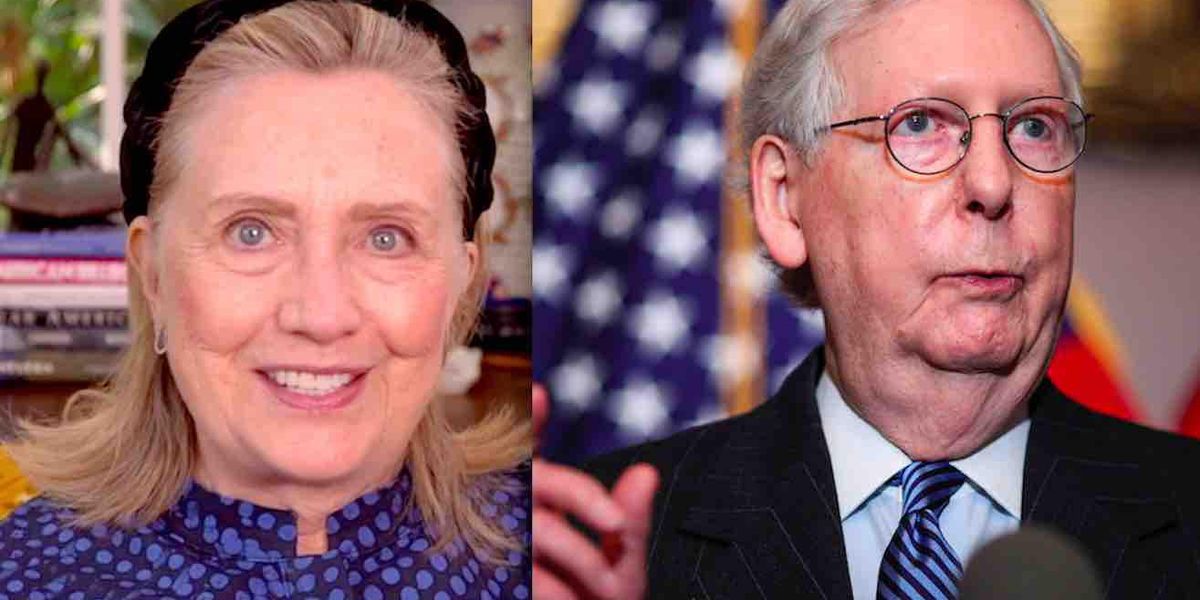 In the wake of what appears to be a Democratic sweep in the Georgia runoff election — which would give Democrats control of the U.S. Senate — former Democratic presidential nominee Hillary Clinton couldn't help herself and joined a massive leftist chorus on social media, which plunged verbal daggers into conservatives far and wide.
But Clinton had a special target in mind: Republican Senate Majority Leader Mitch McConnell.
Because if the Georgia leads hold, McConnell no longer will be majority leader — and Clinton reminded him of that fact on Twitter:
Senate Minority Leader Mitch McConnell.

— Hillary Clinton (@Hillary Clinton)1609944945.0
"Senate Minority Leader Mitch McConnell," the former Secretary of State mocked.
What was the reaction?
While Clinton surely has scads of Twitter fans who loved her hearty jab — it has garnered more than 270,000 likes in less than three hours — many others saw a prime opportunity to mock the former first lady right back:
No love lost
Clinton and McConnell have locked horns before. In fact, just a few months back, McConnell called Amy Coney Barrett's confirmation to the Supreme Court a "wonderful birthday present" for Clinton.
"It was a wonderful birthday present for Hillary Clinton to confirm Amy Coney Barrett to the Supreme Court Monday night on her birthday," McConnell said during a campaign stop in Lawrenceburg, Kentucky, the New York Post reported. "Oh, I'm sure she was so grateful, so grateful."
It should come as no surprise that Clinton — who turned 73 years old — was not particularly in favor of the confirmation of Barrett, a deeply religious conservativ, whose presence on the high court following Trump's nomination tipped the balance further away from liberal justices.