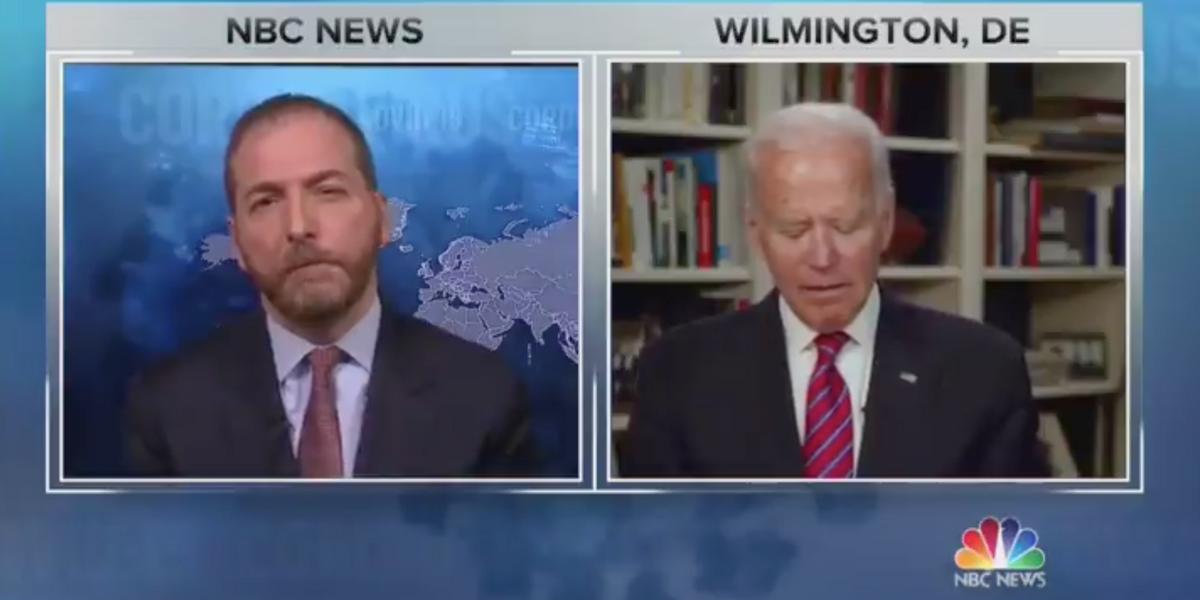 NBC's Chuck Todd asked former Vice President Joe Biden on Sunday if he believes President Donald Trump has "blood on his hands" in the wake of the coronavirus pandemic prompting a quick backlash on social media.
The "Meet the Press" host posed the morbid question as the death toll for the deadly illness surpassed 2,300 Americans by Sunday morning.
'I think that's a little bit too harsh'
"Do you think there's already blood on the president's hands considering the slow response?" he asked Biden, who seemed uncomfortable with the way Todd phrased the question.
"I think that's a little too harsh," the former vice president responded, before criticizing Trump for "thinking out loud."
"He should stop thinking out loud and start thinking deeply. He should start listening to the scientists before he speaks. He should listen to the health experts. He should listen to his economists," Biden added.
Biden then proceeded to make a series of recommendations on what Trump should be doing that closely mirror actions already taken by the federal government.
For instance, Biden said Trump should be focused on ensuring small businesses receive bridge loans and workers receive checks as quickly as possible, both of which are already underway following Congress approving the $2 trillion relief package last week.
A majority of Americans disapprove of media's coronavirus response
In the backdrop of Todd probing whether Trump has "blood in his hands" is a recent Gallup survey that found that Americans' trust in the news media's coronavirus response is the lowest of any U.S. institution.
While 60% of Americans approve of the president's handling of the pandemic, only 44% said the same about the media while 55% disapprove of the job it is doing. The findings are consistent with a September 2019 survey by Gallup that found only 13% of Americans trust the media "a great deal."
Public confidence in the media has been eroding for decades. According to a 1972 survey, 68% of Americans said they trusted the news industry with similar levels were recorded in the following years, but by 1997 the number had fallen to 57% and hit an all-time low of 37% in 2016.