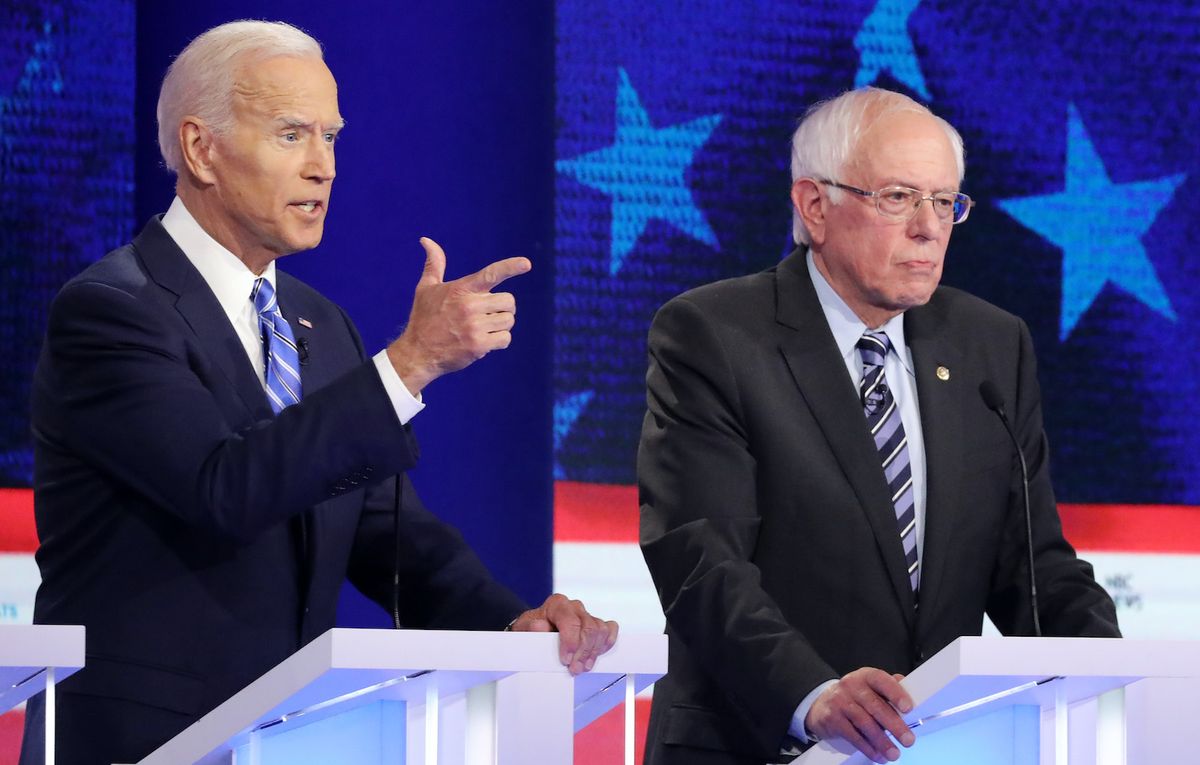 The departures of former South Bend, Indiana, Mayor Pete Buttigieg and Sen. Amy Klobuchar (D-Minn.) from the 2020 Democratic presidential primary field have given former Vice President Joe Biden a substantial boost, according to Morning Consult polling released late Tuesday morning.
The polling, which was conducted between 3 p.m. Monday and 9:30 a.m. on Tuesday, found the former vice president with 36% support among Democratic primary voters — a considerable 8-point lead over rival and current delegate front-runner Sen. Bernie Sanders (I-Vt.), who sits at 28%. The survey also showed former New York City Mayor Mike Bloomberg with 19% support and Sen. Elizabeth Warren (D-Mass.) with 14%.
Biden claimed a decisive win in the South Carolina Democratic primary election Saturday, taking home 48.4% of the vote and 39 delegates in contrast to Sanders' 19.9% and 15 delegates. In the days following the election, Klobuchar and Buttigieg dropped out to endorse the former vice president, who has also recently garnered the support of former rival candidate Beto O'Rourke as well as former Senate Majority Leader Harry Reid.
"The latest figure, which has a margin of error of 4 percentage points, marks his highest share of nationwide support since June, and is up 10 points from polling conducted Sunday after his big victory in the South Carolina primary," Morning Consult reporter Eli Yokley noted of Monday's numbers. He also pointed out that the poll was conducted after Klobuchar and Buttigieg had both dropped out and "as they announced their support for Biden's nomination."
The Morning Consult numbers came the same day as Hill/HarrisX's numbers, which show Biden with 28% support to Sanders' 23% among Democratic voters or voters who lean Democratic. That survey was conducted on Sunday and Monday, after Biden's decisive South Carolina victory.
The results of those two polls helped increase Biden's RealClear national polling average on Tuesday to 24.6%, putting him just behind Sanders' average of 26.0. The day before the South Carolina primaries, Biden's national average was trailing Sanders' by over 10 points.
The recent wave of support for Biden came as part of an apparent widespread effort to stymie Sanders' momentum ahead of the Super Tuesday elections. Those contests take place across 14 different states and will account for 1,357 convention delegates, leaving some to worry that the results could provide Sanders with a runaway lead. In order to win the Democratic party's nomination on the first convention ballot, a candidate will have to win a 1,991 majority.