Author Stephen King was lambasted on social media on Friday, for falsely claiming during a press conference held by President Donald Trump's coronavirus task force that the president's team "is all male, all old, and all white."
What are the details?
As the U.S. works to fight against the spread of COVID-19 among Americans, the president and several administration and health officials (as well as corporate CEO's) spoke directly to the public from the White House Rose Garden on Friday afternoon to discuss initiatives to help.
King, a frequent critic of the president, took to Twitter in the midst of the press conference, telling his 5.7 million followers, "Note that Trump's coronavirus team is all male, all old, and all white."
"No it's not. That's utter crap," replied Rep. Chip Roy (R-Texas), who added, "Also — focus, man. Focus. #BeatCoronaVirus)
Several followers noted that the president was clearly seen standing between Coronavirus Response Coordinator Dr. Deborah Birx and Centers for Medicare and Medicaid Services Administrator Seema Verma, both women who also spoke at the press conference. One user suggested to King: "Might be time to hit up your eye doctor."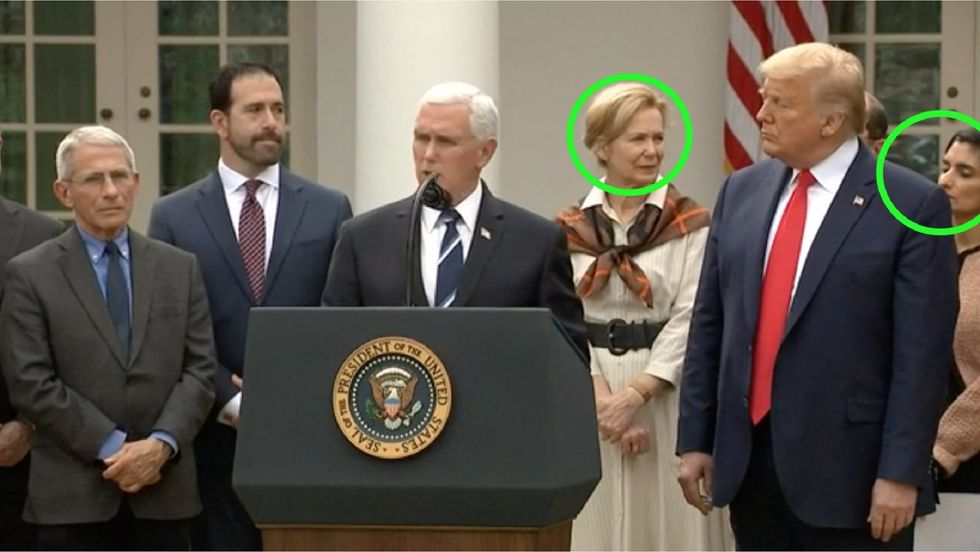 Image source: Edited Washington Post video screenshot
Others pointed out that U.S. Surgeon General Jerome Adams is also on the Trump administration's coronavirus response team, and he happens to be a black man in his 40's — neither old nor white.
Numerous folks further pointed out the obvious fact that both front-runners for the Democratic presidential nomination are old, white men — and that King fits the description, himself.
King was not only called out for being wrong, but for hypocrisy after claiming just a few months ago that quality trumps diversity when it comes to art. On Jan. 14, the author tweeted, "I would never consider diversity in matters of art. Only quality. It seems to me that to do otherwise would be wrong."
After getting torched for a bit, King finally offered a partial concession, writing, "Whoops, there's a woman there! My bad," adding, "Quite the parade of white men in ties, eh? the lady with the shawl looks so great compared to the rest of those bozos."