President Donald Trump wrote on Twitter Saturday that the daily coronavirus briefings were "not worth the time & effort" after his remarks on injecting disinfectant drew criticism earlier this week.
During his absence at yesterday's White House coronavirus press conference, the commander-in-chief posted two tweets attacking the media for asking "hostile questions" at the daily briefings and spreading "fake news."
Posting on Twitter last night, the president wrote: "What is the purpose of having White House News Conferences when the Lamestream Media asks nothing but hostile questions, & then refuses to report the truth or facts accurately.
"They get record ratings, & the American people get nothing but Fake News. Not worth the time & effort!"
An hour later, the president railed against the "mainstream media" for a second time, writing: "I never said the pandemic was a Hoax! Who would say such a thing? I said that the Do Nothing Democrats, together with their Mainstream Media partners, are the Hoax.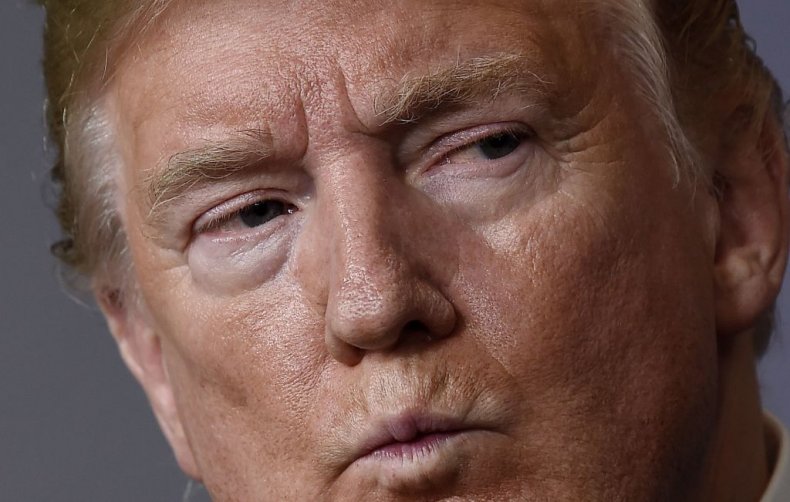 President Donald Trump looks on during the daily briefing on the novel coronavirus on April 24, 2020, in Washington, DC.
Olivier Douliery/AFP via Getty Images
"They have been called out & embarrassed on this, even admitting they were wrong, but continue to spread the lie!"
President Trump hinted that daily coronavirus press briefings could be cancelled two days after he appeared to raise the idea of treating coronavirus patients by injecting them with disinfectant.
"Then I see the disinfectant, where it knocks it out in a minute. One minute. And is there a way we can do something like that? By injection inside or almost a cleaning," Trump said on Thursday. "It will be interesting to check that, so you're going to have to use medical doctors, but it sounds interesting to me."
He also appeared to suggest a form of treatment which involved hitting patients with "tremendous" ultraviolet light to combat COVID-19 infection.
Speaking to reporters on Friday, Trump claimed that he was being sarcastic when he made the remarks on Thursday, and was "of course not" serious about injecting coronavirus patients with disinfectant.
White House Press Secretary Kayleigh McEnany also released an earlier statement claiming that the media had "irresponsibly" taken comments out of context.
"President Trump has repeatedly said that Americans should consult with medical doctors regarding coronavirus treatment, a point that he emphasized again during yesterday's briefing," McEnany said. "Leave it to the media to irresponsibly take President Trump out of context and run with negative headlines."
Axios reported on Friday that Trump wanted to roll back the daily coronavirus press briefings, with sources telling the outlet that the president could stop appearing every day and spend less time at the podium. Politico reported on Saturday that the commander-in-chief's advisers were worried about the impact daily briefings could have on his hopes of being reelected in November.
Newsweek has contacted the White House for comment and will update this article with any response.