In his first on-camera interview since he tested positive for the coronavirus, President Donald Trump told Fox News he was confident that even though he had not received results from it, his retest for the disease showed that he was on the mend.
Appearing remotely from the White House, his appearance on Tucker Carlson Tonight included questions and what was dubbed a medical evaluation of Dr. Marc Siegel.
The segment was introduced by Carlson who said that "by any measure, it's been a remarkable turnaround," and that after rumors that Trump had been "very sick" on Saturday, by Monday "he seemed essentially himself."
After explaining that it was a White House film crew and not one from Fox News filming the president, Carlson threw to the pre-recorded segment in which Siegel started by asking the president how he felt.
Describing it as the "China virus," Trump replied: "I feel really good, I feel very strong."
When asked what the main symptoms were when he went into Walter Reed National Military Medical Center, Trump said that he "didn't have a problem with breathing, which a lot of people seem to have.
However, his personal physician, Sean Conley, had said that early on during treatment, the president had been given supplemental oxygen.
Trump continued: "I didn't feel very vital, I didn't feel like the president of the U.S. should feel." He then said that when in hospital he "tired" but that "I got lucky with a certain medicine," going on to say that after taking Regeneron, "within a period of 24 hours I felt very different.
"I think I could have left the hospital a lot earlier," Trump said, before adding, "right now, I am medication free."
Siegel asked: "I heard you said you were going to test again today, have you been retested?" Without revealing when the procedure had taken place, Trump replied: "I have been retested and I haven't even found out numbers or anything yet."
If someone has a COVID-19 test in the hospital, they will usually get the result the same day, according to Medical News Today.
Trump continued: "But I've been retested and I know I'm either at the bottom of the scale or free" he added, although almost all Covid tests register only a binary positive or negative result, and even a small viral load would likely mean a positive test.
An unclear or inconclusive result means it's not possible to say if you had coronavirus when the test was done, according to the NHS website.
On Saturday, Trump is expected to hold his first official public event since his coronavirus diagnosis at an event on the White House South Lawn, in which he will speaking about law and order, NBC News reported.
He will appear from the White House balcony where he took his mask and saluted after his discharge from hospital. Newsweek has contacted the White House for comment.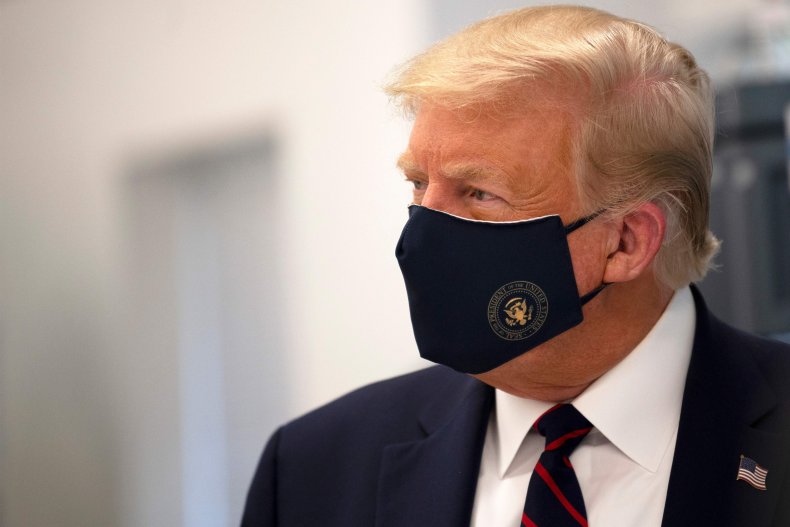 President Donald Trump at Fujifilm Diosynth Biotechnologies in Morrisville, North Carolina on July 27. He has said he has been tested again for COVID-19 but has not got the results.
JIM WATSON/Getty Images