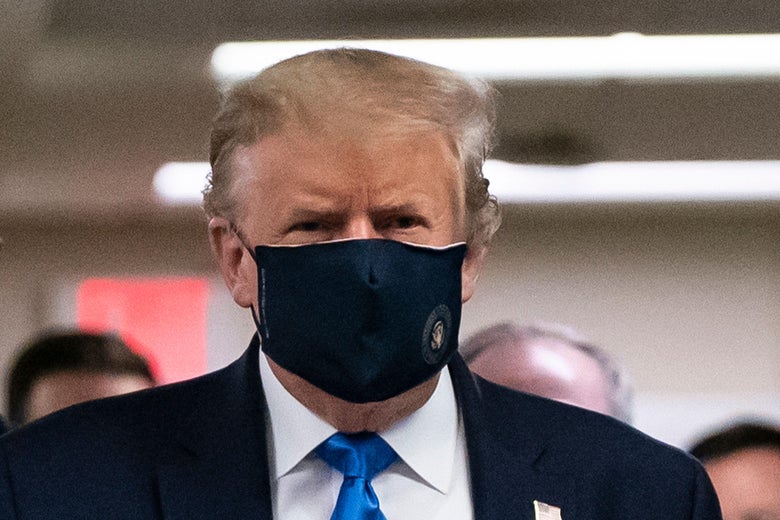 President Donald Trump wears a mask as he visits Walter Reed National Military Medical Center in Bethesda, Maryland on July 11, 2020. ALEX EDELMAN/Getty Images
It's finally happened. After months of resisting we have the first photos of President Donald Trump wearing a face mask in public. The commander in chief wore a mask during a visit to Walter Reed National Medical Center on Saturday. Trump was not wearing a mask when he stepped out of the helicopter at the hospital. But he was seen wearing a dark navy blue mask with a gold presidential seal emblazoned on the side as he walked in the hospital's hallway as he began the visit. It was a carefully planned photo-op and Trump only said "thank you" as he passed.
Trump had previewed to reporters earlier that they would likely be seeing him wearing a mask. "I'll probably have a mask if you must know. I'll probably have a mask. I think when you're in a hospital especially in that particular setting, where you are talking to a lot of soldiers, people that in some cases just got off the operating table. I think it's a great thing to wear a mask. I've never been against masks but I do believe they have a time and a place," Trump told reporters before traveling to the military hospital to visit with wounded soldiers and front-line medical workers.
Trump, who had previously been adamant against the idea of wearing a mask in public, had previewed that he would wear a mask during two interviews earlier in the week. And he made it seem like his decision was no big deal. But aides apparently "practically begged him" to agree to Saturday's photo-op, CNN had reported earlier. The president's aides insisted that the president wearing a mask in public was a good message to send to his supporters at a time when the number of coronavirus cases are surging around the country. One adviser to the president said that Trump ended up agreeing after a week of "lots of negotiation" that included "pleading" by aides.
Earlier, Trump had gleefully worn his refusal to be seen with a mask as a badge of honor. "I didn't want to give the press the pleasure of seeing it," Trump said as he explained his decision to not wear a mask during a May visit to a Ford plant in Michigan. Trump claimed he had worn a mask during a portion of the tour but later removed it.
More than 3.2 million Americans have been infected by the coronavirus that has killed more than 134,000 people in the United States. Earlier this month, Vice President Mike Pence said he doesn't believe "there's a need for a national mandate" on masks.
Readers like you make our work possible. Help us continue to provide the reporting, commentary, and criticism you won't find anywhere else.