President Donald Trump's suggestion that the families of troops who died during active duty service were responsible for his COVID-19 infection has earned substantial scorn from veterans and family members, who labeled his comments as just the latest in a pattern of actions that make them question his support for the U.S. armed forces.
In his first interview since being diagnosed with the novel coronavirus disease, Trump recalled to Fox News on Thursday how the family members of fallen service members—called Gold Star families—wanted to hug and kiss him during a September 27 event at the White House. Some came "within an inch" of his face, and he said he felt helpless to say no because of the emotional nature of the event.
"I'm not telling them to back up. I'm not doing it," Trump told Fox News. "But I did say it's obviously dangerous, it's a dangerous thing, I guess, if you go by the COVID thing."
The comments were ill-received by a number of those who have survived their service to the country, who felt the president had disrespected the men and women who had not.
"As a wounded combat veteran, it's absolutely disgusting President Trump would blame gold star families as the reason he contracted COVID," Alan Pitts, a U.S. Army combat veteran who served in Iraq and is a Purple Heart recipient, told Newsweek.
Pitts, who is a member of the Common Defense political action committee, said that these grieving families had enough to deal with without being berated by the commander in chief.
"As if Gold Star families don't have enough tragedy and guilt in their lives, the commander-in-chief is adding to their burden," he said. "But it's just the latest incident of Trump abdicating his responsibilities and shifting the blame to others. It's extremely sad and embarrassing."
"Trump has no shame," the Purple Heart recipient said.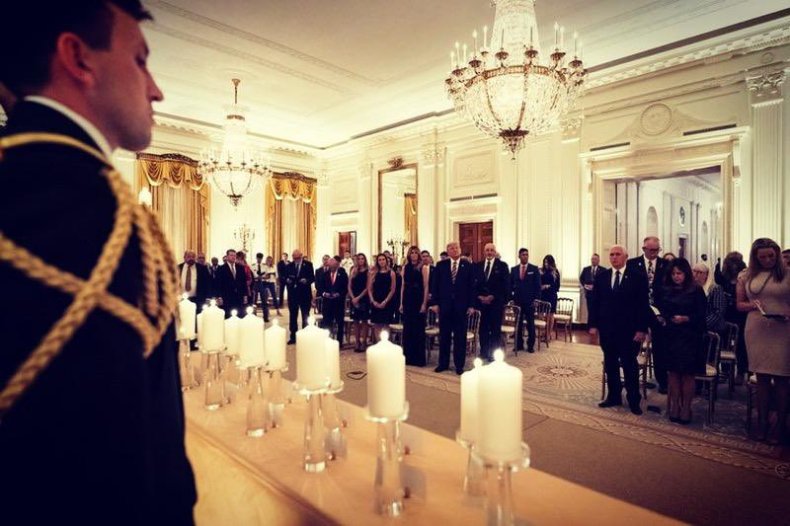 President Donald Trump, Vice President Mike Pence and others attend a White House event honoring the mothers of U.S. service members who died on duty, September 27. The function has been a source of controversy as the president, first lady and a senior military officials and White House aids later tested positive for COVID-19.
First Lady of the United States
Prior to becoming sick himself, Trump has disparaged scientifically backed practices designed to halt the spread of the disease. These include the wearing of masks, which the president declined to do while posing for pictures at the White House event.
As the nation's top political and military leader, veterans like Shyamali Hauth, who served with the U.S. Air Force, felt it was the president who should own up to his choice.
"President Trump, as the commander in chief, needs to take responsibility for his own actions and inactions, and not place blame for getting COVID-19 on our gold star families," Hauth told Newsweek.
"These families have lost their loved ones in service to our country," she said. "For a president who claimed bone spurs as his reason for not serving in the military, its beyond the pale that he blames Gold Star families for his political decision to not wear a mask."
Those with family members still serving also took exception to what they felt was the president playing politics with members of the U.S. military and their families.
"I find it personally offensive that the president continues to pull service members of all ranks, veterans and their families into his off-the-cuff remarks in disparaging and insensitive ways," one active duty family member involved in advocacy told Newsweek.
Others used their own military experience to drive the point home. Jason Kander, a veteran of the U.S. war in Afghanistan and former Missouri secretary of state, recalled an incident in which a senior officer fired a round into his clearing barrel, considered a negligent discharge in military circles, but swiftly admitted to his mistake, making an example out of himself.
"That wasn't remarkable. Nearly any military leader would've responded that way," Kander told Newsweek. "By exposing Gold Star families to COVID and then blaming them for his own mistakes, it's like if that officer had accidentally shot one of his soldiers and then told the entire unit the soldier had attacked him."
Kander also shared this anecdote Friday during a press call, where other veterans such as Moe Davis, a U.S. Air Force veteran and Democratic candidate for North Carolina's 11th congressional district, took aim at Trump's record.
"It's a shame," Davis said.
"Our troops deserve to know that their commander in chief has their best interests at heart," he said, "and that begins with telling the truth. And it's clear in this case, beginning in January when he knew that COVID-19 wasn't just like the flu, it was much worse, to continually expose Americans, with 212,000-plus deaths so far."
Davis listed a series of policies and remarks that have rocked the president's military record, including attempts to privatize the Veterans Affairs Department, his mockery of the late Senator John McCain—a former prisoner of war in Vietnam—and his alleged dismissal of U.S. troops who died in World War I as "suckers" and "losers," as first reported last month by The Atlantic and later corroborated by some other major outlets.
The result, Davis said, has been a "steady erosion" of support for the president among even conservatives serving in the military and their family members.
Trump's waning support among this community was also attested to on Friday's call by Claire Russo, a Marine Corps veteran and former congressional candidate for Virginia's fifth district. She argued there were even more serious consequences to Trump's remarks.
"Donald Trump disrespecting and denigrating families who have given their fathers, their mothers, their sisters, their brothers in defense of our democracy, in defense of our United states is abhorrent," Russo said, " but it is also a threat to every single American and the future of our democracy."
Fellow Marine Corps veteran Jake Auchincloss, who is the Democratic nominee for Congress in Massachusetts' fourth congressional district, said he felt the commander in chief would never have been able to live up to the Marines motto of honor, courage and commitment.
"He is without honor, he lacks courage and he has no commitment," Auchincloss said, "and this latest episode is just the last example of that in relation to the U.S. military."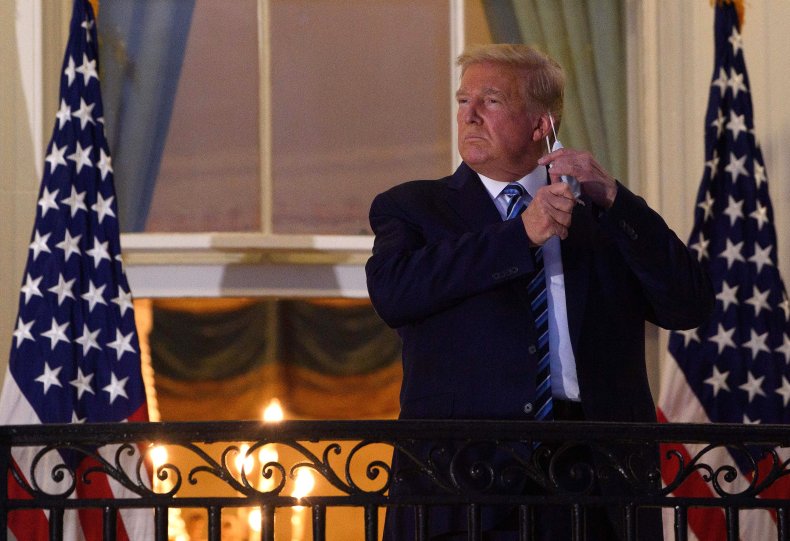 President Donald Trump takes off his facemask as he arrives at the White House upon his return from Walter Reed Medical Center, where he underwent treatment for COVID-19, in Washington, DC, on October 5. The president has since reportedly ceased to exhibit symptoms of the disease and has returned to working at the Oval Office despite still likely being contagious.
NICHOLAS KAMM/AFP/Getty Images
The source of Trump's COVID-19 has not yet been identified, and the president has not provided evidence as to his indications that his hosting of the Gold Star families at the White House led to him getting sick. And while he, First Lady Melania Trump, Coast Guard Vice Commandant Charles and a number of White House officials present at the event later tested positive for the disease, reports indicate the families themselves have not gotten sick.
A statement sent to Newsweek by Bonnie Carroll, president of the Tragedy Assistance Program for Survivors (TAPS) involved with the September 27 event, said the five families in attendance were COVID-19-free.
"Each family has indicated to us that they were healthy and feeling well prior to attending the event," Carroll said, adding "that they were tested at the event and found to be negative for the coronavirus, and all have felt well in the time since the event."
She said that in spite of the recent negative news cycle surrounding the event, the families remained grateful for the opportunity.
"They were honored that their loved ones were remembered in this moving tribute,"Carroll said, "and found comfort in coming together with others who understood their loss."
But the fact that these families have shown no signs of having been infected with COVID-19 has only further fueled his critics.
"Donald Trump blaming Gold Star families for his positive COVID-19 diagnosis—with zero evidence—is disgusting," Will Goodwin, a U.S. Army veteran and director of government relations for progressive political action committee VoteVets, told Newsweek.
He, like others Newsweek spoke to, linked it to a larger trend in the president's beliefs.
"It's also just the latest instance in a pattern of inexplicable hatred from the commander in chief toward those who serve, and the families who serve alongside them," Goodwin said. "There is no amount of sacrifice from our heroes and their families that can blunt Donald Trump's desire to discard them for his own political needs."