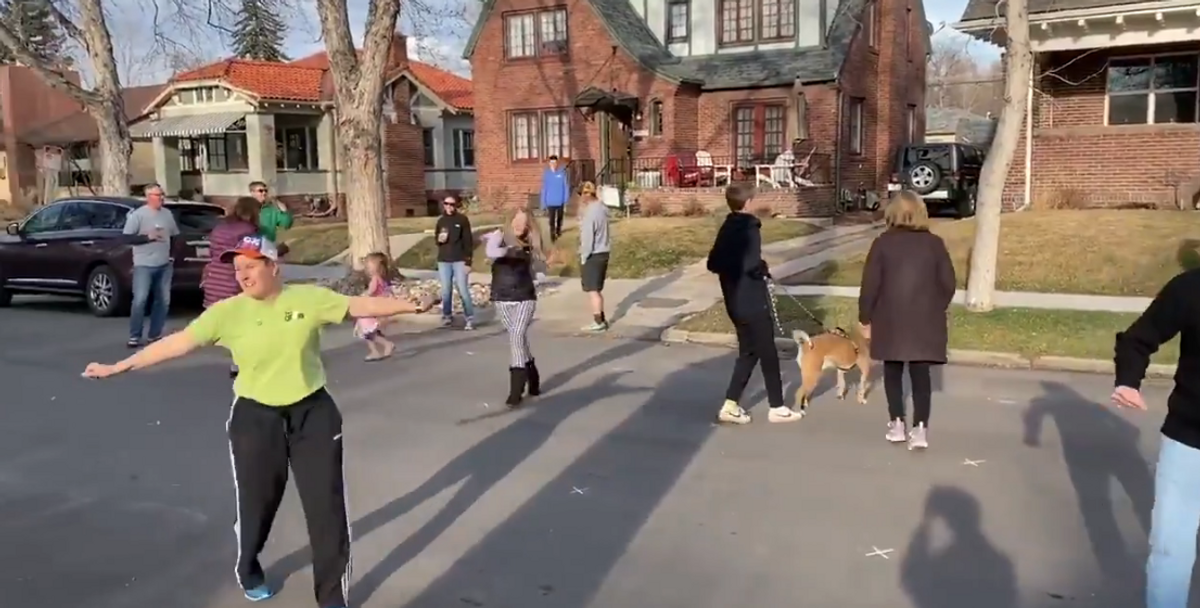 As community life has come to a screeching halt across America amid the coronavirus outbreak, residents of a Denver neighborhood found a creative way to beat back the social distancing blues — by holding a neighborhood dance party.
One neighborhood resident caught the dance party on video and posted it on Twitter.
"Meanwhile on my block: Social-distancing neighborhood street dance party. 4 songs, 14 minutes of fun and community — while 6 feet apart," the caption for the original tweet read.
In the clip, you can see people of all ages in the street, dancing with each other while remaining 6 feet apart. The Centers for Disease Control and Prevention believes the virus is usually transmitted person-to-person "between people who are in close contact with one another (within about 6 feet)."
Many cities and towns around the country have closed down bars, restaurants, and shops in hopes of stemming the community spread of the coronavirus. Schools have sent students home and businesses have asked employees to work remotely.
The CDC issued updated guidelines Sunday, recommending that event organizers cancel or postpone events consisting of 50 or more people for the next eight weeks.
President Trump also issued guidelines from the White House Monday that advised all Americans to avoid social gatherings of more than 10 people and avoid discretionary travel for the next 15 days.
As of Tuesday morning, more than 4,500 in America had tested positive for the virus, resulting in more than 90 deaths.