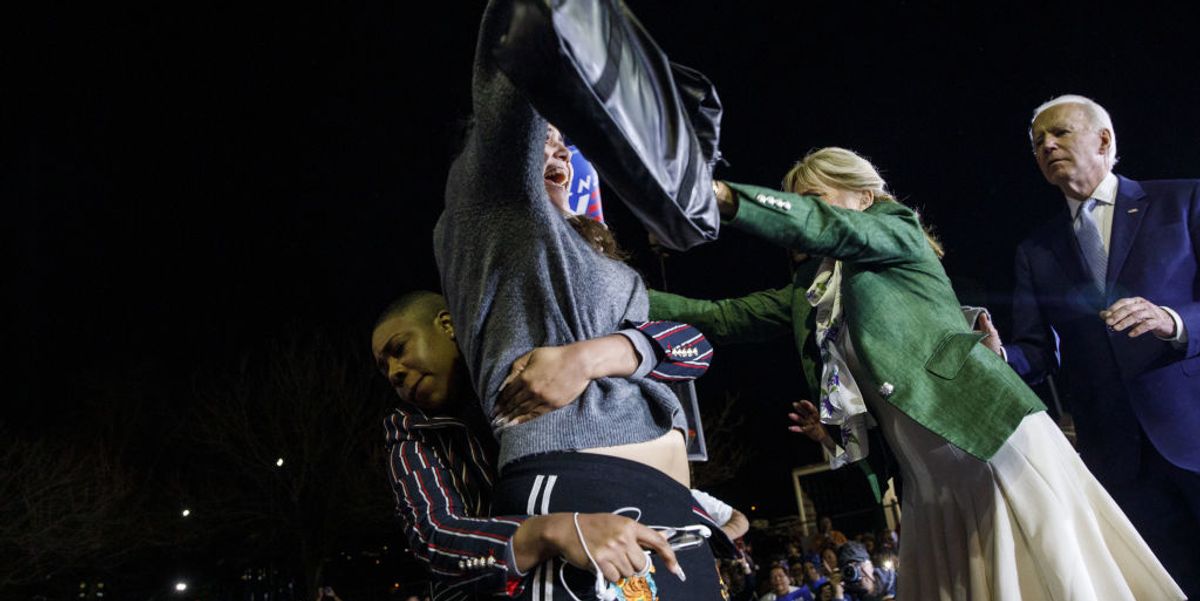 Symone Sanders, a senior adviser for Joe Biden's campaign, went viral Tuesday after she tackled a protester who stormed the stage where Biden was delivering his Super Tuesday victory speech.
Biden was speaking in Los Angeles when multiple protesters, holding "let dairy die" signs, stormed the stage. An unknown man removed the first protester, but when a second protester stormed the stage, a charging Sanders tackled the lady and dragged her off the stage.
In the below video, Sanders is the African-American lady wearing the striped suit jacket.
As BuzzFeed noted, the anti-dairy protesters have routinely interrupted political candidates this election season. Sen. Bernie Sanders even had to deal with topless dairy protesters last month.
For her part, Sanders responded to the incident afterward on social media, saying that she broke a nail in the melee.
It is not clear where Biden's security was at the time of the incident.
As a former vice president, Biden no longer has Secret Service protection. Former vice presidents and their spouses receive only six months of additional Secret Service protection upon leaving office, whereas former presidents and their spouse receive lifetime protection.
Biden was the clear winner of Super Tuesday. Although Sanders will ultimately win California, Biden performed better than expected in the Golden State and won the most available Super Tuesday delegates. The former VP now holds a delegate lead over Sanders.