As the coronavirus spreads in the United States, Americans are beginning to feel the impact in their everyday lives. Here is what you need to know as we face this pandemic together, in order to be informed, safe, and vigilant during this time of uncertainty.
How to stay safe at home and in public:
The White House Coronavirus Task Force has compiled lists of actions and practices Americans can take immediately to decrease the spread of the new coronavirus known as COVID-19. The Trump administration's guidance advises people to — first and foremost — practice good hygiene, particularly with thorough and frequent handwashing.
Avoid touching your face, stop greeting others with a handshake, cover coughs and sneezes, increase ventilation and regularly disinfect "high-touch" surfaces such as doorknobs, touchscreens, and handrails.
Workplaces are advised to hold meetings via videoconferencing when possible, and to "consider adjusting or postponing large meetings or gatherings." Businesses should assess the risks of travel.
Schools are encouraged to avoid mixing classes and grades to minimize contact between students, and "when possible, hold classes outdoors or in open, well-ventilated spaces."
If you or a family member are feeling sick, stay home. Do not go in public if you experience symptoms affiliated with COVID-19, including, fever, cough, or shortness of breath. If you believe you may have contracted the coronavirus, contact your healthcare provider for guidance.
When possible, sick individuals should be given their own room with the door closed. Individuals over the age of 65 or who have underlying health conditions should take greater precautions as they are more vulnerable to the virus.
COVID-19 cases in the U.S.:
According to the latest numbers reported by the Centers for Disease Control and Prevention as of noon eastern time on Thursday, 42 states and the District of Columbia have reported either confirmed or presumptive cases of COVID-19 within their jurisdictions.
The CDC reported that there 1,215 reported cases of the coronavirus in the U.S. since Jan. 21, and 36 deaths from the virus.
Since those counts hours ago, single cases in two more states have been reported, along with two more deaths.
The agency noted that "state and local public health departments are now testing and publicly reporting their cases," and that "in the event of a discrepancy between CDC cases and cases reported by state and local public health officials, data reported by the state should be considered the most up to date."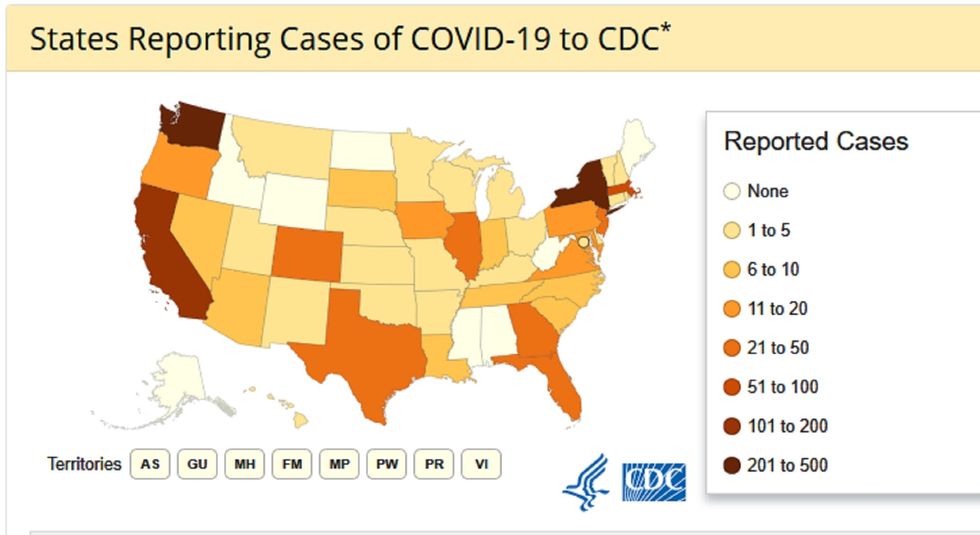 Image source:
CNN reported Thursday that there are currently no reported cases of COVID-19 in the states of Alabama, Alaska, Idaho, Maine, Montana, or West Virginia.
The latest numbers in states with reported cases are: Arizona, 9; Arkansas, 1; California, 139 (including four deaths); Colorado, 33; Connecticut, 3; Delaware, 1; District of Columbia, 10; Florida, 26 (including two deaths); Georgia, 31; Hawaii, 2; Illinois, 25; Indiana, 10; Iowa, 14; Kansas, 1; Kentucky, 8; Louisiana, 13; Maryland, 12; Massachusetts, 95; Michigan, 2; Minnesota, 5; Mississippi, 1; Missouri, 1; Nebraska, 10; Nevada, 7; New Hampshire, 5; New Jersey, 23 (including one death); New Mexico, 4; New York, 216; North Carolina, 8; North Dakota, 1; Ohio, 4; Oklahoma, 2; Oregon, 19; Pennsylvania, 15; Rhode Island, 5; South Carolina, 10; South Dakota, 8 (including one death); Tennessee, 7; Texas, 21; Utah, 3; Vermont, 1; Virginia, 9; Washington, 373 (including 30 deaths); Wisconsin, 10; and Wyoming, 1.
Closings:
Be prepared for closings. The states of Ohio and Maryland announced Thursday that they would be temporarily closing all K-12 schools in an effort to fight the spread of the coronavirus, while individual schools and districts in other states have done the same.
Child care and adult care facilities may also choose to close temporarily either out of an abundance of caution or in the instance that an enrollee or staff member tests positive for COVID-19. Earlier this week, a child care center in Georgia was closed for deep cleaning after a teacher was confirmed to have contracted the coronavirus.
Several universities have already canceled on-site classes, transitioning temporarily to online learning only.
Cancellations:
Nearly all major sports leagues in the United States have shut down in order to prevent the spread of the coronavirus, and large festivals, concerts, parades, and other large gatherings have been cancelled or postponed by organizers.
The CDC is warning event organizers and community and faith leaders to "get ready," and advises decision-makers to "work closely with the emergency operations coordinator or planning team for your venues and with local public health officials to discuss the criteria you will use to postpone or cancel your event(s)."
Travel:
President Donald Trump has ordered the suspension of travel from all European countries except the U.K., effective Friday at midnight, and the CDC recommends that all nonessential travel to China, Iran, and most of Europe be avoided. Foreign nationals from those countries are currently not granted entry into the United States.
U.S. officials also recommend avoiding nonessential travel to South Korea, and suggest older Americans and those with chronic medical conditions avoid traveling outside the U.S. altogether amid the ongoing global outbreak of COVID-19.
For domestic travel, the CDC has not issued advisories or restrictions, but recommends Americans assess risks such as the spread of the coronavirus at their destination and the risk of exposure at airports or other crowded areas.
Travelers should also double-check plans and inquire about cancellations and closures at their destinations. Case in point: popular theme park Disneyland announced Thursday that it would be closing March 14 through the end of the month in response to the coronavirus outbreak, Business Insider reported.