Spain's coronavirus death toll has overtaken China's, climbing to 3,434, while a slowdown in the rate of new infections in Italy has raised hopes that the peak of its outbreak could be within sight.
After more than a week in lockdown in Spain, another 738 people died over 24 hours, but officials expressed hope that the daily rise in deaths might be stabilising. "If we are not already at the peak, we are very close," said Fernando Simón, the head of Spain's health emergency centre.
Italy remains the centre of the crisis with a total of 6,820 deaths – more than double the number documented in China. The death toll in Italy rose by 743 on Tuesday, dampening hopes that a slowdown in the rate of deaths on Sunday and Monday would become a trend. However, the rate of new infections slowed for a third consecutive day, rising by 3,612, compared with 3,780 on Monday.
"This is an extremely positive factor," said Ranieri Guerra, from the World Health Organization. "In some regions we are close to the falling point of the curve and therefore probably the peak could be reached this week and then fall," he told Radio Capital. "I believe that this week and the first days of the next will be crucial."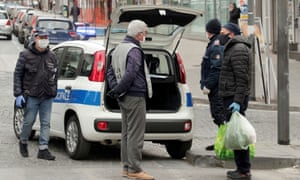 Police officers check people coming back from a shopping trip in the village of Herculaneum, Italy. Photograph: Ciro de Luca/Reuters
In Spain, healthcare workers account for nearly 14% of the country's 47,610 cases, officials say. Amid reports of overwhelmed emergency wards, doctors and nurses have complained of a lack of basic protective equipment that has forced them to ration crucial supplies and craft protective shields out of plastic bags.
Two unions representing doctors have filed lawsuits aimed at forcing the regional health authority and the Spanish government to deliver scrubs, masks and goggles to hospitals and other health centres.
Nato said on Tuesday that Spain had asked it for medical supplies, requesting items including 450,000 respirators, 500,000 testing kits and 1.5m surgical masks.
Germany and France have faced criticism over export bans on products such as masks and goggles. The EU is expected to sign off on a "more ambitious and wide-ranging crisis management system" that will include a plea for the lifting of such bans.
Around the world, the number of confirmed coronavirus cases has climbed to more than 423,000. Among the latest to test positive is Prince Charles, who is showing mild symptoms, according to a spokesperson for Clarence House.
The true number of global cases is likely to be much higher. Officials in Spanish regions such as Madrid and Catalonia initially dealt with a shortage of testing resources by asking people with mild symptoms to simply self-isolate, while Italy's top coronavirus response official, Angelo Borrelli, has suggested the real number of infections there is probably 10 times higher than the official count.
The accelerating pandemic – it took 67 days to reach the first 100,000 cases and four days to hit the latest 100,000, according to the WHO – has led to an estimated 1.7 billion people being ordered to remain at home around the world.
In the US, where infections have passed the 55,000 mark and more than 800 people have died, legislators reached a deal on a $2tn (£1.85tn) rescue package on Wednesday, the biggest bailout in US history.
After days of round-the-clock and at times extraordinarily tense negotiations among senators and Trump administration officials, a bipartisan compromise was struck in the early hours of the morning to rush financial assistance to workers, businesses and the healthcare system as the pandemic sweeps across the country, deepening the economic fallout as Donald Trump considers easing restrictions aimed at combating the contagion.
Meanwhile, Indians are struggling to comply with the world's largest lockdown after the prime minister, Narendra Modi, instructed the country's 1.3 billion people to stay at home for the next three weeks. Modi warned citizens that if they did not act now, the virus could overwhelm the fragile healthcare system and set the country back decades.
Iran's president, Hassan Rouhani, told a cabinet meeting on Wednesday that social distancing measures and a crackdown on travel would be introduced in the next 24 hours. Just over 2,000 lives have been claimed by the coronavirus in Iran.
There is seemingly little consensus as to how long these lockdowns could last. The French government's scientific advisers have recommended six weeks, while the Spanish government is expected to seek parliamentary approval on Wednesday to extend the country's 15-day near-total lockdown to 11 April.
In China, life began returning to normal on Wednesday as restrictions on movement, construction and transport were lifted after two months of lockdown in Hubei province, where the outbreak began. The lockdown in Hubei's capital, Wuhan, will be lifted on 8 April.
The lockdown measures appear to have successfully curbed the number of infections, according to a report from Imperial College London. The analysis suggests that countries currently in various levels of lockdown could eventually relax the measures, as long they ensure measures are in place to limit the risk of any resurgence of the virus.
In other developments:
Russia's president, Vladimir Putin, has postponed a public vote in April on a constitutional change that would allow him to stay in in power beyond 2024.

The head of the Netherlands' public health institute has told the Dutch parliament that measures to control the spread of coronavirus appear to be working.

Closures aimed at containing the coronavirus pandemic are preventing aid from reaching 300,000 people in conflict zones across the Middle East, the Norwegian Refugee Council has said.

Libya has announced its first coronavirus case, as experts warn that the conflict between two groups for control of the country could make containing the spread of the virus very challenging.
Reporting team: Hannah Ellis-Petersen in Delhi, David Smith in Washington, Jennifer Rankin in Brussels, Patrick Wintour and Sarah Boseley in London, Rory Carroll in Dublin, Helen Davidson in Sydney, and Kim Willsher in Paris.