Unlike many European countries, Sweden has kept its primary schools open as well as bars and restaurants, while urging people to respect social distancing and hygiene recommendations.
Sweden kept its primary schools, bars and restaurants open – unlike many of its European neighbours – but it did ban visits to care homes on March 31.
Sweden's Nordic neighbours also introduced bans around the same time, but have recorded far fewer care home deaths.
But unlike in those countries, Swedish nursing homes are often large complexes with hundreds of residents.
They are only available to those in very poor health and unable to care for themselves, and residents are, therefore "a very vulnerable group", according to Henrik Lysell of the Board of Health and Welfare.
Bjorn Branngard told AFP the personnel at his mother's home did not have proper protective gear.
"There was no protection. The personnel were going between different sections and spreading the virus."
In greater Stockholm, the epicentre of Sweden's virus spread, 55 percent of nursing homes have so far confirmed COVID-19 cases, according to Region Stockholm health authorities.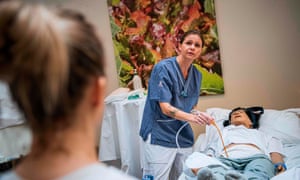 A Swedish health care worker (Photo by Jonathan NACKSTRAND / AFP) (Photo by JONATHAN NACKSTRAND/AFP via Getty Images) Photograph: Jonathan Nackstrand/AFP via Getty Images
Kommunal, Sweden's largest union for municipal employees which includes many care workers, has meanwhile blamed precarious working conditions for the unfolding tragedy.
It said that in March, 40 percent of staff at Stockholm nursing homes were unskilled workers employed on short-term contracts, with hourly wages and no job security, while 23 percent were temps.
In other words: people who often can't afford not to go to work even if they're sick.
"There are a lot of different people who work at several nursing homes, and that also leads to a greater spread," the head of Kommunal's nursing home division, Ulf Bjerregaard, said.
Abdullah, a pseudonym for a 21-year-old refugee who didn't want to disclose his real name, has worked as an assistant in a care home outside Stockholm for two years.
He told AFP about a resident treated in hospital for a broken leg.
"She tested negative for the virus when she was with us. When she returned from the hospital three days later, she was positive," he said.
"We had protective aprons but no masks when we were working with her," he said, adding that he has since refused to go to work.
Sweden's soft response to the coronavirus has been controversial, and now authorities have admitted they failed to adequately protect the elderly, with around half of COVID-19 deaths occurring among nursing home residents.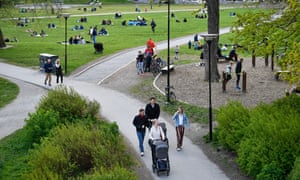 Swedes enjoy a walk day in Ralambshovsparken park, Stockholm, Sweden Photograph: IBL/REX/Shutterstock
3,220 have died from the virus in Sweden, and although the country said early on that shielding those 70 and older was its top priority, 90 percent of those who had died as of April 28 were over the age of 70. Half were nursing home residents, and another quarter were receiving care at home, statistics from the Swedish Board of Health and Welfare show.
"We failed to protect our elderly. That's really serious, and a failure for society as a whole. We have to learn from this, we're not done with this pandemic yet," Health and Social Affairs Minister Lena Hallengren told Swedish Television recently.
The nation has been held up as a global model in how to curb the virus, but the order from the Seoul mayor on Saturday followed the new infection cluster in Itaewon, one of the city's busiest nightlife districts.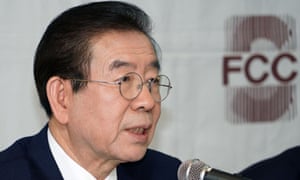 Seoul Mayor Park Won-soon Photograph: Seoyong Lee/Penta Press/REX/Shutterstock
More than two dozen cases were linked to a 29-year-old man who tested positive after spending time at five clubs and bars in Itaewon last weekend.
Health authorities have warned of a further spike in infections, with around 7,200 people estimated to have visited the five establishments identified.
"Carelessness can lead to an explosion in infections," Seoul mayor Park Won-soon said, adding the order will remain in effect indefinitely.
Of the 18 new South Korean cases reported on Saturday, 17 were tied to the Itaewon cluster, according to the Korea Centers for Disease Control and Prevention.
The jump in new infections comes as everyday life in South Korea has slowly started returning to normal, with the government relaxing social distancing rules last Wednesday.
The nation endured one of the worst early outbreaks of the disease outside mainland China, and while it never imposed a compulsory lockdown, strict social distancing had been widely observed since March.
Th country's extensive "trace, test and treat" programme has drawn widespread praise, and the latest outbreak appears to be under control.
34 new cases were reported on Sunday, taking the total to 10,874 – the largest daily increase in a month.
Agence France Presse
An Agence France Presse photojournalist has been granted rare access to a psychiatric ward under lockdown in France, which has one of the highest death tolls in Europe.
The patients of the Centre psychiatrique du Bois de Bondy have been under strict lockdown since the beginning of the COVID-19 outbreak in France in mid-March, and they haven't received any visits from their relatives since. According to a tribune published by a group French psychiatrists early April 2020, a person affected by a psychiatric disease can suffer 1.5 or 2 times more often, compared to the rest of the population, from associated conditions, such as cardiovascular disorders, diabetes or hypertension, and are therefore more vulnerable to Covid-19.
Images by @LoicVenance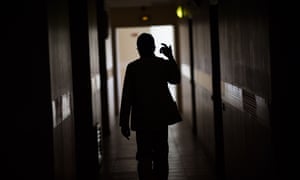 A patient walks in a corridor of the psychiatric hospital "EPS de Ville Evrard, Centre psychiatrique du Bois de Bondy", on May 7, 2020, in Bondy, France Photograph: Loïc Venance/AFP via Getty Images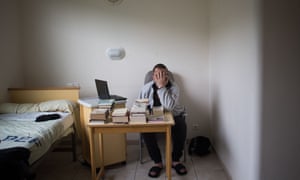 A patient covers his face as he poses in his bedroom at the psychiatric hospital "EPS de Ville Evrard, Centre psychiatrique du Bois de Bondy". Photograph: Loïc Venance/AFP via Getty Images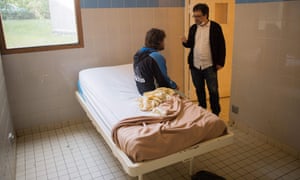 Psychiatrist Pedro Serra (R) speaks with a patient placed in an isolated room at the psychiatric hospital "EPS de Ville Evrard, Centre psychiatrique du Bois de Bondy" Photograph: Loïc Venance/AFP via Getty Images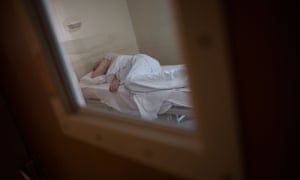 A patient who recovered from the COVID-19 lays in bed at the psychiatric hospital "EPS de Ville Evrard, Centre psychiatrique du Bois de Bondy" Photograph: Loïc Venance/AFP via Getty Images
The Associated Press reports that the coronavirus in Japan has brought not just an epidemic of infections, but also an onslaught of bullying and discrimination against the sick, their families and health workers trying to save lives.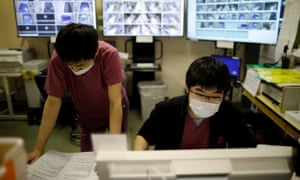 Medical workers at the Intensive Care Unit (ICU) ward for coronavirus disease (COVID-19) patients at St. Marianna Medical University Hospital in Kawasaki, south of Tokyo, Japan May 4, 2020. REUTERS/Issei Kato Photograph: Issei Kato/Reuters
A government campaign to raise awareness seems to be helping, at least for medical workers. But it's made only limited headway in countering the harassment and shunning that may be discouraging people from seeking testing and care and hindering the battle against the pandemic.
Apart from fear of infection, experts say the prejudice against those even indirectly associated with the illness also stems from deeply rooted ideas about purity and cleanliness in a culture that rejects anything deemed to be alien, unclean or troublesome.
Medical workers risking their lives to care for patients are a main target, but people working at grocery stores, delivering parcels and carrying out other essential jobs also are facing harassment, as are their family members.
"I can imagine people fear the virus, but we are working hard at the front lines under enormous pressure," a nurse in her 30s told the AP, speaking on condition of anonymity out of fear she might be targeted if identified. "We also have our own families we care about. Discrimination against us just because we are medical workers is discouraging and demoralizing."
The backlash against coronavirus patients may lead some who fall sick to avoid seeking medical care, raising the risks of infection spreading further, clinical psychologist Reo Morimitsu at the Suwa Red Cross Hospital said in an interview with NHK public television. Reports said Japanese police last month found about a dozen people dead at home alone or collapsed on the streets who later tested positive for the virus.
"The virus not only infects our body but also our minds and behaviour, harming us and dividing our society," Morimitsu said.
Random acts of hatred against those with virus connections have been reported countrywide, prompting Prime Minister Shinzo Abe and other officials to speak out.
"It's shameful," Abe told a recent parliamentary session.
Sam Neill, the New Zealand actor famous for roles in Jurassic Park and Hunt for the Wilderpeople has kept busy during lockdown filming short videos designed to cheer his followers up. Today, he shared his tips for combating anxiety and sleeplessness.
"Smile stupidly in the dark" Sam Neill
Sam Neill (@TwoPaddocks)

ANXIETY? Not sleeping well ? From Cinema Quarantino – the palliative (maybe) DAS ANGST KAPUT, our most ambitious production yet. Enormously helpful… or utterly useless . Well worth it . With #HeatherMitchell 'Not sexy' (Playboy)'Sexy'(ODT) Only on #Instagram @samneilltheprop pic.twitter.com/x9WfregIjb
UK prime minister Boris Johnson is expected to unveil a coronavirus warning system for England when he outlines his plans to gradually ease the lockdown.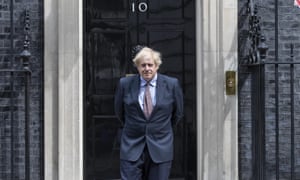 British prime minister Boris Johnson Photograph: Jeff Gilbert/REX/Shutterstock
The prime minister will drop the "stay home" slogan and instead tell the country to "stay alert, control the virus and save lives" when he outlines his "roadmap" to a new normality during an address to the nation on Sunday. Johnson is planning to tell workers who cannot do their jobs from home to begin returning to their workplaces while following social distancing rules.
It is understood that a warning system administered by a new "joint biosecurity centre" will detect local increases in infection rates, with the aim of altering restrictions locally in England. The alerts will range from green at level one to red at level five. Johnson is expected to say that the nation as a whole is close to moving down from four to three.
The prime minister will chair a meeting of the emergency Cobra committee with cabinet ministers, leaders of the devolved nations and the mayor of London, Sadiq Khan, before his 7pm pre-recorded address.
On Monday, the government will publish a 50-page document outlining the full plan to cautiously restart the economy to MPs.
China's National Health Commission reported 14 new confirmed coronavirus cases on May 9, the highest number since April 28 and up from only one case a day earlier.
Of the new cases, two were imported infections. The remaining 12 confirmed cases were locally transmitted, including 11 cases in the northeastern province of Jilin.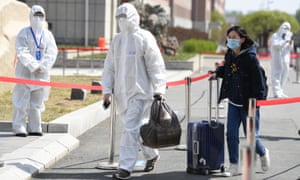 A student wearing a face mask arrives at Changchun University of Chinese Medicine as it reopens on Friday. Photograph: China News Service via Getty Images
Newly discovered asymptomatic cases were at 20, the highest since May 1 and up from 15 a day earlier, according to the health commission. No new deaths were reported, it said.
The total number of confirmed coronavirus cases in the country reached 82,901 as of May 9, while the total death toll from the virus stood at 4,633, it said.
On Sunday, Jilin province raised the coronavirus risk level of Shulan city from medium to high after a cluster of 11 cases were confirmed in Shulan.
The move came after all areas in China were considered low-risk on Thursday.
Reuters
Associated Press is reporting that three members of the White House coronavirus task force have placed themselves in quarantine after contact with someone who tested positive for Covid-19.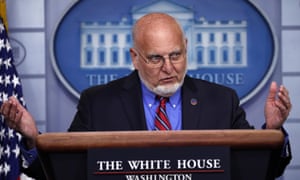 Dr Robert Redfield, director of the Centers for Disease Control and Prevention, speaks about the coronavirus in Washington in April. Photograph: Alex Brandon/AP
Dr Robert Redfield, director of the Centers for Disease Control and Prevention, will be "teleworking for the next two weeks" after it was determined he had a "low-risk exposure" to a person at the White House, the CDC said in a statement Saturday evening. The statement said he felt fine and has no symptoms.
The Food and Drug Administration confirmed that FDA Commissioner Stephen Hahn had come in contact with someone who tested positive and was in self-quarantine for the next two weeks. He has tested negative for the virus.
Anthony Fauci, a high-profile member of the White House coronavirus response team, is considered to be at relatively low risk based on the degree of his exposure, according to a representative for the National Institute of Allergy and Infectious Diseases (NIAID).
Fauci, the 79-year-old NIAID director, has tested negative for COVID-19 and he will continue to be tested regularly.
Vice president Mike Pence's press secretary tested positive for the coronavirus on Friday, making her the second person who works at the White House complex known to test positive this week. A member of the military serving as one of Trump's valets tested positive for Covid-19 on Wednesday.
President Donald Trump, who publicly identified the affected Pence aide as spokeswoman Katie Miller, said he was not worried about the virus spreading in the White House.
On Monday New Zealand's cabinet will decide whether to downgrade the country's alert system from Level 3 to Level 2. With less than a dozen cases of the virus recorded this past week, it is widely assumed the country will lower its alert level, allowing domestic travel, the opening of bars and restaurants and the widening of "bubbles" – meaning people can leave the home to meet friends, family or even online dates. Schools and workplaces will also reopen.
The country's prime minister Jacinda Ardern has described New Zealand as "half-way down Everest" in its battle against the virus, which has claimed 21 lives.
New Zealand Labour (@nzlabour)

Today Prime Minister Jacinda Ardern outlined the cautious approach that's being taken by Cabinet to ensure that when New Zealand moves to Alert Level 2, it is done safely. Before a decision is made, they want to be confident that the hard-won gains we've made won't be lost. pic.twitter.com/IrCpEeICvC
NSW premier Gladys Berejiklian has confirmed that the state's lockdown will begin to ease on Friday, after only two new cases of the virus were recorded on Sunday.
Loosened rules will permit outdoor gatherings of up to 10 people, meaning it's the first time since the new rules were introduced that people will be able to leave the home for recreational activities. Berejiklian says a gathering of 10 people might be physical training, sitting down in a park, or "having some type of gathering outdoors".
NSW is the most populous Australian state. Queensland's new restrictions will begin next Saturday, Victoria won't announce theirs until Monday and the ACT has already modified its restrictions.
In other changes for NSW:
Cafes and restaurants can have 10 patrons at a time
Visitors in the home will also rise from two to five. That includes adults and children.
Religious gatherings or places of worship will now be able to include up to 10 people.
Weddings will increase from five people to 10, and funerals will increase to 20 mourners or 30 for an outside service
Restrictions on regional travel will not change
"To have a population the size of New South Wales, to see our cases go from a maximum of 200 or so a day down to just a small handful is a wonderful achievement. We don't want to see any of this lost. We need to fire up our economy. We need to get people back into jobs. We need to see some semblance of normality come back. But we can't breach any of the restrictions in place. No matter what you are doing, when you leave your home, you need to maintain social distancing." – NSW premier Gladys Berejiklian
France and Spain, two of the countries worst hit by the coronavirus, are preparing to ease out of lockdown, as the number of cases worldwide passes 4 million.

Amid the barrage of deaths, some European countries cited signs of progress they said justified taking slow steps back toward some version of normality, French news agency AFP reports.
French officials on Saturday said the day's death toll of 80 was the lowest since early April. Nursing home fatalities also fell sharply as France prepared to relax curbs on public movement imposed eight weeks ago.
"I've been scared to death" about the reopening, said Maya Flandin, a bookshop manager from Lyon. "It's a big responsibility to have to protect my staff and my customers."
French health officials warned that "the epidemic remains active and is evolving", and a state of emergency remains in place to July 10.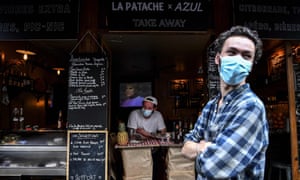 A bartender waits for customers behind a makeshift counter lining the sidewalk in Paris on the 54th day of a lockdown in France. Photograph: Christophe Archambault/AFP via Getty Images
In Spain, about half the population will be allowed out on Monday for limited socialization, and restaurants will be able to offer some outdoor service as the country begins a phased transition set to last through June.
Fears lingered, however, of a viral resurgence if restrictions are lifted too quickly: "The virus has not gone away," Prime Minister Pedro Sanchez warned.
Belgium is also easing some restrictions on Monday, and in some parts of Germany bars and restaurants reopened on Saturday with further easing set for Monday. Overall, however, the situation in Europe is still far from normal.
Tesla CEO Elon Musk is threatening to pull his company's factory and headquarters out of California after local officials stopped him reopening the electric car factory due to the Covid-19 risk, Associated Press reports.
In a lawsuit filed in federal court, Tesla accused the Alameda County Health Department of overstepping federal and state coronavirus restrictions when it stopped Tesla from restarting production at its factory in Fremont. The lawsuit contends Tesla factory workers are allowed to work during California's stay-at-home order because the facility is considered "critical infrastructure."
Musk has been ranting about the stay-home order since the company's 29 April first-quarter earnings were released, calling the restrictions fascist and urging governments to stop taking people's freedom.
Elon Musk (@elonmusk)

Frankly, this is the final straw. Tesla will now move its HQ and future programs to Texas/Nevada immediately. If we even retain Fremont manufacturing activity at all, it will be dependen on how Tesla is treated in the future. Tesla is the last carmaker left in CA.
The reopening of the Great Smoky Mountains National Park on the Tennessee-North Carolina border in the US has drawn crowds of hundreds, many not wearing masks, knocking over barricades and standing pressed together in lines a mile long to view the sights.
Park spokeswoman Dana Soehn told the Associated Press that many people were not wearing masks or social distancing, with visitors over the weekend from 24 different states.
President Donald Trump has prioritized reopening national parks as a sign of significant progress against the invisible enemy of the pandemic, even as cases rise in an outbreak that has devastated the U.S. economy.
In another grim milestone of this pandemic, global cases have passed 4 million, with deaths at over 278,750. The US has the most infections on 1,307,676, followed by Spain on 222,857. Russia is fast approaching 200,000.
The US also tops deaths, with 78,746, followed by the UK (31,662) and Italy (30,395).
An explosive tape has emerged of former US president Barack Obama describing President Trump's handling of the coronavirus crisis as "an absolutely chaotic disaster".
In the recording, obtained by Yahoo News, Obama discusses Joe Biden's chances in the upcoming presidential elections with his alumni association.
"This election that's coming up on every level is so important because what we're going to be battling is not just a particular individual or a political party. What we're fighting against is these long-term trends in which being selfish, being tribal, being divided, and seeing others as an enemy — that has become a stronger impulse in American life. And by the way, we're seeing that internationally as well.
"It's part of the reason why the response to this global crisis has been so anaemic and spotty. It would have been bad even with the best of governments. It has been an absolute chaotic disaster when that mindset – of 'what's in it for me' and 'to heck with everybody else' – when that mindset is operationalised in our government."
Obama goes on to discuss the justice department's decision to drop the case against Michael Flynn, the former Trump national security adviser who pleaded guilty to lying to the FBI about his contacts with Moscow.
Read the full report here:
Hi and welcome to the our global coronavirus blog, Eleanor Ainge Roy at the helm today.
Here are the most important recent developments, including that global cases have passed four million:
The coronavirus has killed at least 278,756 according to the Johns Hopkins tracker. Infections globally stand a 4,020,878. The death toll is highest is the US, at 78,693.
Former US president Barack Obama has called Trump's virus response "an absolute chaotic disaster". The former US president harshly criticised his successor's handling of the coronavirus pandemic during a conversation with ex-members of his administration, according to a recording obtained by Yahoo News.
Germany's plans to restart competitive football next Saturday suffered an early setback after the entire Dynamo Dresden team were placed in a two-week quarantine following two positive coronavirus tests among the players.
Nigeria's largest city Lagos could return to lockdown to halt the coronavirus if residents continue to ignore social distancing rules, the governor warned on Saturday. Since the easing of five-week restrictions, people have been seen thronging markets and banks despite orders remaining in place to avoid mass gatherings.
Indonesia has reported its biggest daily increase in infections, with 533 new confirmed cases, taking the total to 13,645. But with Indonesia's low testing rate criticised by medical experts, the number of infections in the country – which has the fourth biggest population in the world – is feared to be far higher than official figures show.
The number of people who have died from coronavirus infections in France rose by 80 to 26,310 on Saturday, the health ministry said. This is a much smaller daily increase than the previous day when it was 243.
Let's get started.