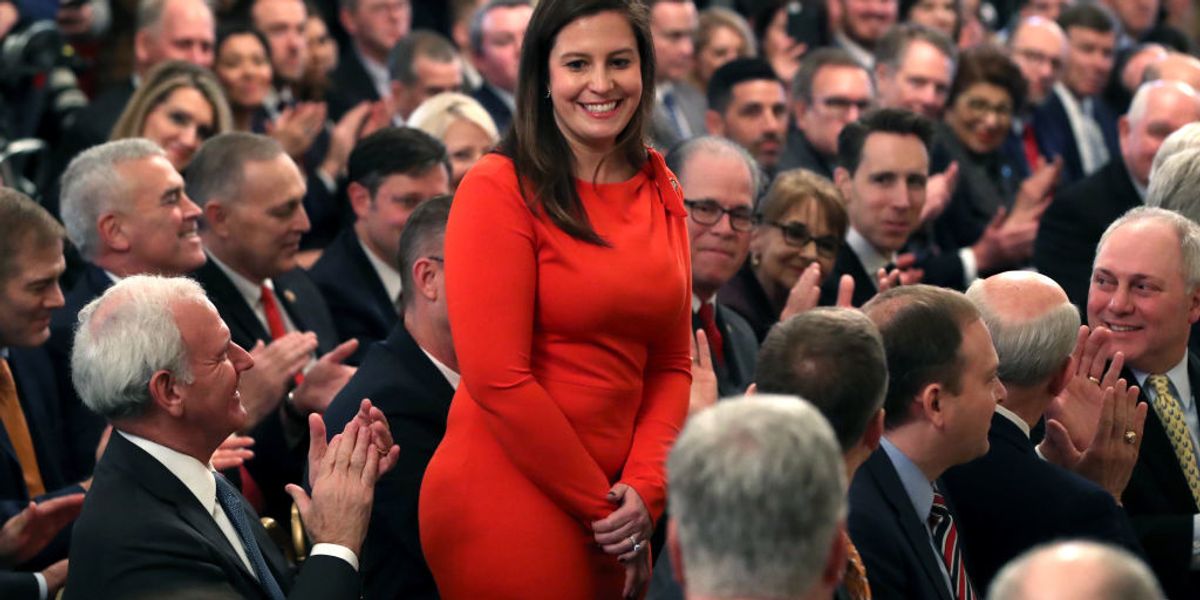 Rep. Elise Stefanik (R-N.Y.), whose robust defense of President Donald Trump during the House impeachment inquiry helped make her a household name, was harassed at a grocery store on Saturday. The congresswoman for New York's 21st district posted a hateful note that was posted on her car's windshield, presumably written by a left-winger who recognized her.
"Rot in hell FASCIST PIG," the note read, according to a photo shared by Stefanik on Twitter.
"My husband and I went grocery shopping this morning before district events and enjoyed chatting with constituents throughout the store," Stefanik wrote. "This vile anonymous note was left on our car."
The incident happened after Republicans have warned Democratic politicians and personalities against encouraging their supporters to target GOP officials in public. In July 2018, Rep. Maxine Waters (D-Calif.) told her supporters at a rally to confront Trump officials when they were out in public.
"Let's make sure we show up wherever we have to show up. And if you see anybody from that Cabinet in a restaurant, in a department store, at a gasoline station, you get out and you create a crowd. And you push back on them. And you tell them they're not welcome anymore, anywhere. We've got to get the children connected to their parents," Waters said at the time.
Opponent does not condemn the author
As Townhall noted, Stefanik asked her Democratic opponent, Tedra Cobb, to denounce the "hatred" directed at her.
"As an elected official, I understand that respectful & passionate policy disagreements are foundational to our democracy. But this note is just sad hatred," she wrote.
"We are praying for the author," Stefanik added. "This hateful rhetoric should be publicly condemned by my opponent immediately."
Cobb responded to Stefanik and while she described the note as "damaging and wrong," she stopped short of condemning the anonymous author.
"I think it's time you joined me in pledging not to name call in this campaign. I'd love to work with you to set a better example for #NY21," Cobb said.
A 'vicious, vile, sick attack'
The back-and-forth between Stefanik and Cobb continued with the congresswoman replying and noting her Democratic opponent failed to condemn the harassment targeting her.
"One is a policy difference (you have voted numerous times to raise taxes) the other is a vicious, vile, sick attack," she said. "They are not the same and voters know it."
As Townhall's Beth Baumann explained, the message targeting Stefanik may even point to the congresswoman facing a possible security risk.
"Not only is it rude but it's also scary. Clearly the person who left the note watched Stefanik, noticed what car was hers and waited for her and her husband to go into the store. That's a safety and security risk."