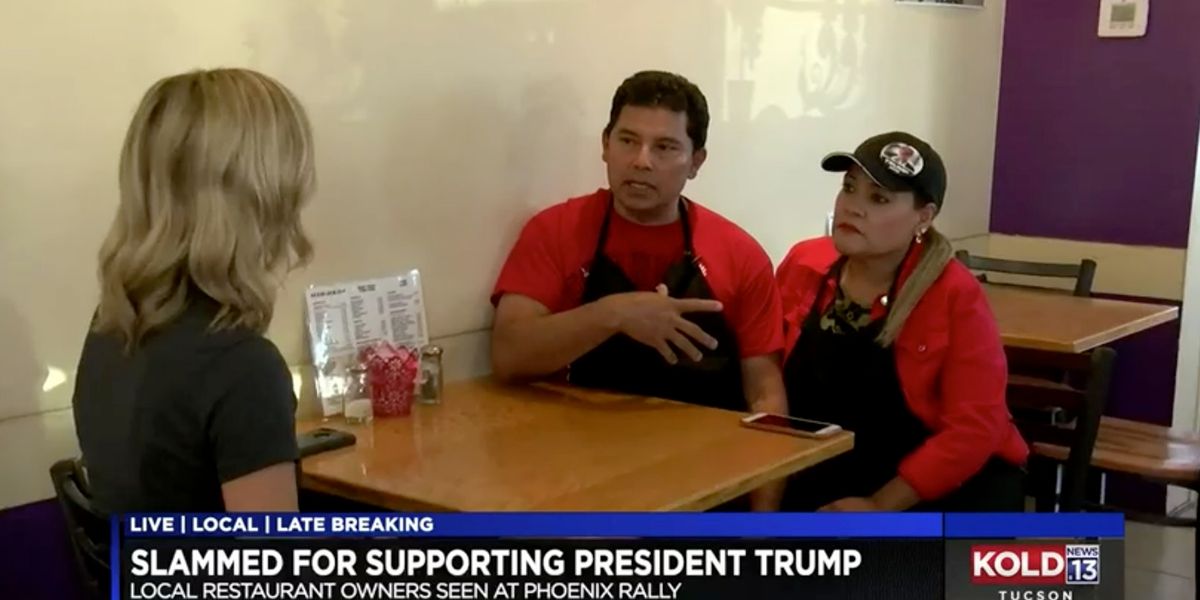 Jorge and Betty Rivas, owners of Sammy's Mexican Grill near Tucson, Arizona, have faced a barrage of harassment for attending a President Donald Trump rally in Phoenix last month.
But now it appears the Rivas' will get the last laugh.
What happened?
After attending the Trump rally, where Jorge and Betty were spotted directly behind the president, the restaurant owners began receiving a wave of backlash, including negative social media messages, falsely negative restaurant reviews, harassing phone calls, and threats.
"Just yesterday I had a few guys say 'you guys are — you're racists, you're evil, you're the worst of the worst,'" Jorge told KOLD-TV.
The Rivas are both naturalized citizens — Jorge is from El Salvador and Betty is from Mexico — and they have been staunch Trump supporters since Trump entered politics.
"We have supported the president pretty much from day one," Jorge told KOLD. "Every single rally he has had in Phoenix she goes or I go or sometimes we both go, this time we decided we both wanted to go. "We fell that is very important for every person to say 'this is what I stand for' and in our case we are Republicans we are behind the president."
On Sunday, Jorge and Betty even appeared on "Fox and Friends" after their story gained traction online.
What was the response?
The online hate did not work. In response, Trump supporters have flooded Sammy's Mexican Grill with support online. Even the president himself has responded.
"The food is GREAT at Sammy's Mexican Grill in Phoenix, Arizona. Congratulations to Betty & Jorge Rivas on doing such a wonderful job. I will try hard to stop by the next time I am in Phoenix. Support Sammy's!" Trump said.
"I'm going to drive the 2 hours to Tucson w/ my family just to eat here to show them support," another supporter said.
"I'm going to retweet this repeatedly in hopes that Trump supporters in that area flock to that restaurant and keep them so busy they won't have time to think about the haters!!!" another supporter said.
"I just gave them a call and paid $50.00 for food to feed police officers," yet another supporter responded.
"Just saw they give free meals to law enforcement….can't wait to give them my $$!" another person said.
This is not the first time that the Rivas' restaurant has been targeted. In 2016, after Betty appeared onstage during a Trump campaign rally, Trump opponents also lashed out at the Rivas — triggering a similar wave of support that caused a food shortage at their restaurant.