Within a few hours of former Republican Sen. Tom Coburn's death being announced, NBC News reporter Ken Dilanian used his passing to attack President Donald Trump.
Coburn's death was announced by Senate Majority Leader Mitch McConnell on Twitter at 1:34 pm ET. Two hours later, Dilanian shared his positive experience covering and fondness for the late conservative lawmaker from Oklahoma. His tone changed shortly thereafter when the NBC News journalist began recounting listing a series of harsh comments allegedly made by Coburn regarding Trump.
Appearing and disappearing tweets
In a tweet that he later deleted, Dilanian recalled how Coburn criticized the president in 2017. "A physician, Coburn opined in 2017 that Trump has a 'personality disorder,'" he wrote. "Reckless, outrageous and undignified behaviour has become excused and countenanced as telling it like it is when it is actually just reckless, outrageous and undignified."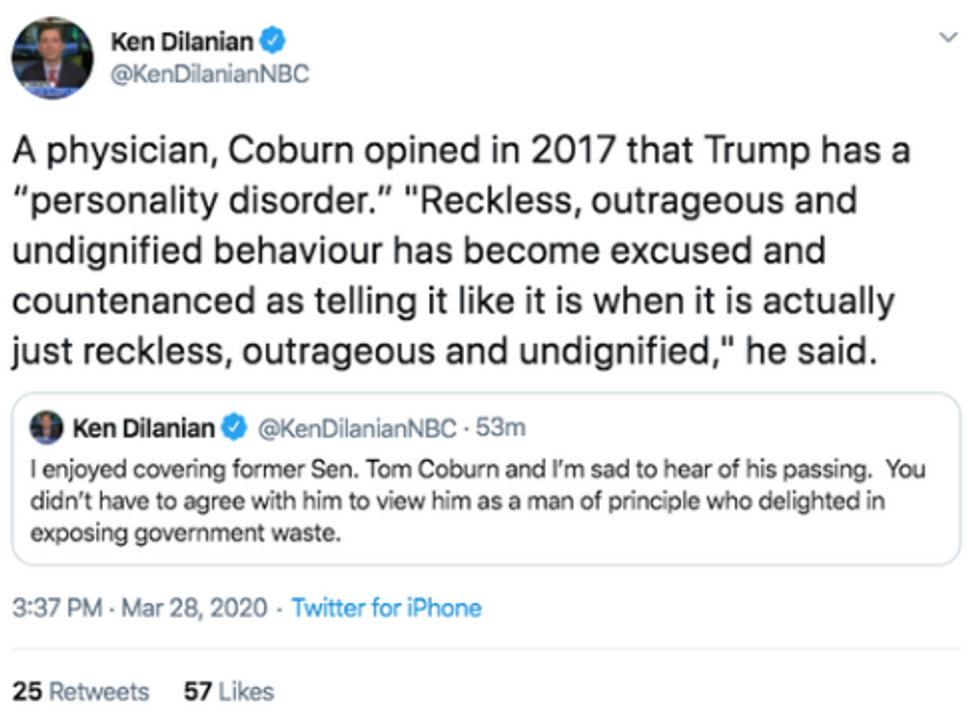 Image source: Twitchy screenshot
Dilanian then quote tweeted himself and followed-up with: "'And when such behaviour emanates from the top of our government, it is something else,' Coburn added. 'It is dangerous to a democracy.'"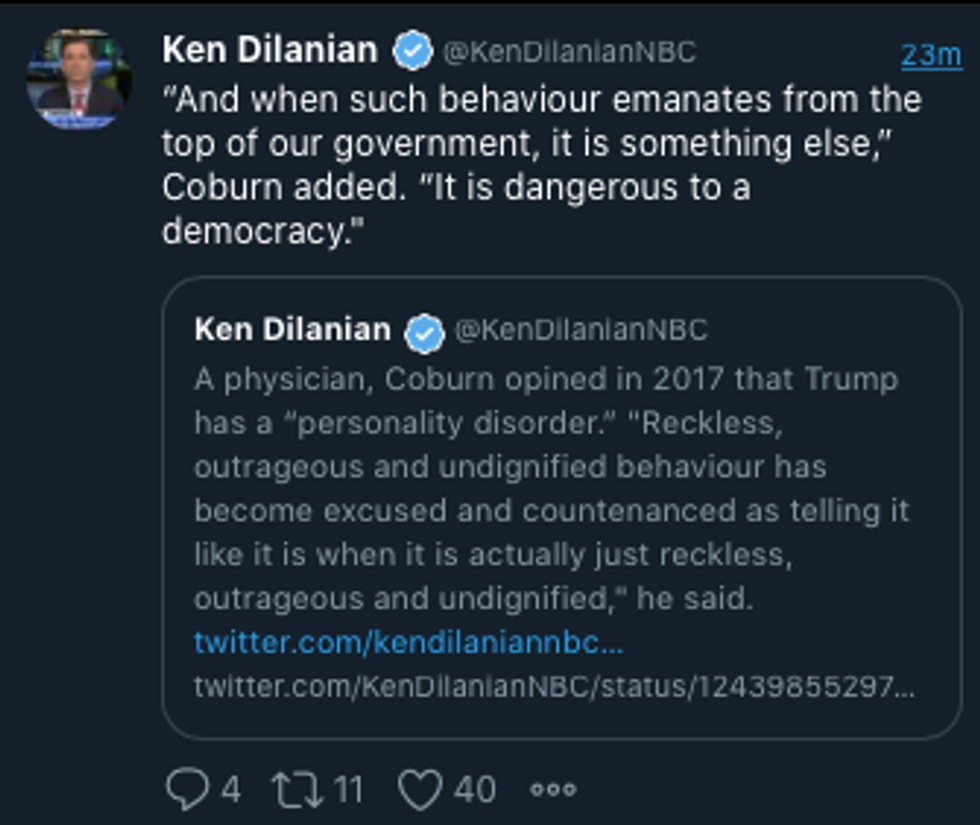 As Twitchy noted, he then deleted both tweets and shared again that Coburn once said Trump has a "personality disorder."
Coburn never said most of those things
Coburn, who was a medical doctor by training, made the "personality disorder" comment during an October 2017 interview where he also credited the president with keeping his campaign promises.
"We have a leader who has a personality disorder," Coburn told The New York Times at the time. "But he's done what he actually told the people he was going to do, and they're not going to abandon him."
However, Coburn never made any of the other statements — describing Trump as "reckless, outrageous and undignified" — that Dilanian attributed to him. Nor did Coburn warn that the president was "dangerous" to our democracy.
In fact, it appears as though the veteran national security reporter mistakenly took fragments of a speech by former Arizona GOP Sen. Jeff Flake and credited Coburn with having said them. Flake made the comments during a fiery Senate floor address while announcing he would not seek re-election in 2018. It is unclear why Dilanian claimed that the late GOP senator made any of those comments.
Coburn, a Republican known for his criticism of government waste, died on Saturday morning after a long battle with prostate cancer. He was 72.