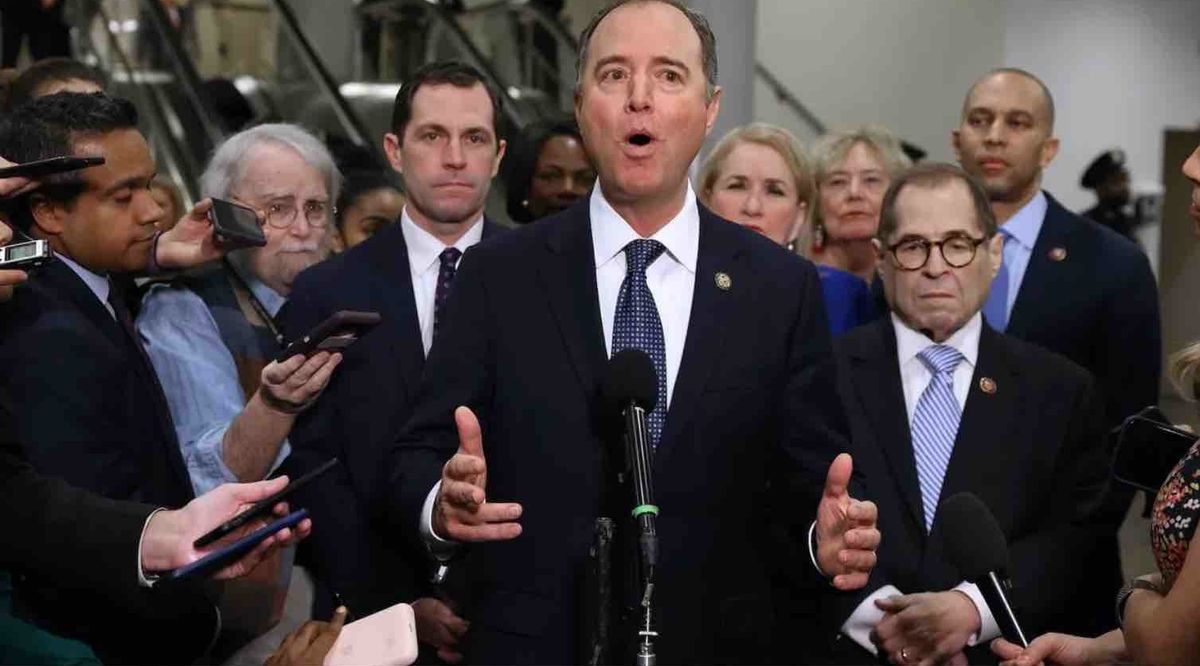 During opening arguments of the Senate's impeachment trial on Wednesday, lead House manager Adam Schiff (D-Calif.) said that, without impeachment, Americans would not be able to trust the outcome of the 2020 presidential election.
"The House did not take this extraordinarily step lightly," Schiff told the Senate of the decision to impeach President Donald Trump. "Impeachment exists for cases in which the conduct of the president rises beyond mere policy disputes to be decided otherwise, and without urgency at the ballot box."
Schiff then accused President Trump of "an attempt to use the powers of the presidency to cheat in an election" in the dealings with Ukrainian officials described in the House's impeachment articles.
"For precisely this reason, the president's misconduct cannot be decided at the ballot box, for we cannot be assured that the vote will be fairly won," Schiff added.
"In corruptly using his office to gain a political advantage," Schiff continued, "in abusing the powers of that office in such a way to jeopardize our national security and the integrity of our elections, in obstructing the investigation into his own wrongdoing, the president has shown that he believes that he is above the law."
Last month, the House approved two articles of impeachment against President Trump, one accusing him of abusing the power of his office with the suspension of military aid to Ukraine over corruption concerns and the other accusing him of obstructing Congress' investigation into the former matter.
Schiff also pushed back on the idea that the House's obstruction claims — which stem from the White House's refusal to cooperate on providing witnesses and documents the investigation — should be decided in the courts because the time necessary for litigation "would provide the president with an opportunity to continue his misconduct."
Elsewhere in his remarks, Schiff said that if Trump were not convicted by the Senate and removed from office over the impeachment articles, the "abuse of his office and obstruction of Congress will permanently alter the balance of power among our branches of government."
Schiff's remarks Wednesday about the legitimacy of the upcoming election echo comments he made in December when he said, "The president's misconduct goes to the heart of whether we can conduct a free and fair election in 2020."