President Donald Trump said Tuesday that the U.S. has more ventilators than it can currently use and will be sending the surplus to other countries battling the coronavirus pandemic.
Trump's statement, made during a meeting with Florida Governor Ron DeSantis, was backed up by Jared Kushner, the president's son-in-law and adviser.
Kushner whose involvement in the White House pandemic response was treated with suspicion from outset because of his personal ties to the president, and was widely condemned for saying the governors were overestimating their ventilator needs as infection rates approached their peak. However. the ventilator shortfalls the governors predicted never materialized.
"We were ready to move," Trump said of U.S. preparedness to assist states in fighting coronavirus. "We still are. We have more than 10,000. Jared, what do we have, 10,000, more than 10,000 in stockpile?"
"More than 10,000 and it's growing every day," Kushner said. "We're getting a lot more in than we're sending out."
An executive working on the White House ventilator program told Newsweek previously that while governors alarm was understandable, they and the media were largely wrong in predicting a catastrophic deficiency.
Trump said that some ventilators would be sent to "not only allies but countries that need help," Trump added. "We're talking about a lot of countries that need help."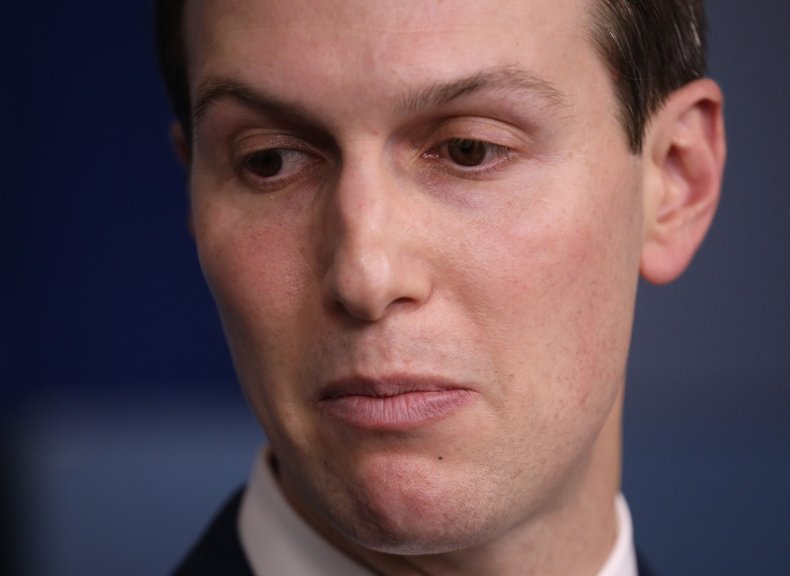 Senior White House adviser Jared Kushner said Tuesday that the federal stockpile of ventilators had more than 10,000 units and was "growing every day."
Win McNamee/Getty
Ventilators, along with other medications and medical equipment, are held in the Strategic National Stockpile which is managed by the Public Health Emergency division of the U.S. Department of Health & Human Services.
Kushner said during an April news briefing that the "notion of the federal stockpile was it's supposed to be our stockpile" and was not designed "to be states' stockpiles that they then use." Many states did receive medical equipment from the stockpile, including Florida.
Governor DeSantis told Trump Tuesday that had he had over 6,000 ventilators "unused" in the state.
"We've had people in the hospital," DeSantis said, "but I am now in a situation where I have less than 500 people in a state of 22 million on ventilators as of [Monday night]," DeSantis said. "And I have 6,500 ventilators that are sitting idle, unused around the state of Florida."
Newsweek reached out to the Public Health Emergency Department of the U.S. Department of Health and Human Services and New York Governor Andrew Cuomo's office for comment.
DeSantis also said he agreed with Kushner in March that New York would not require the number of ventilators they were requesting, which was approximately 40,000.
"When everybody was talking about 40,000 ventilators in New York," DeSantis said, "I am in contact with Jared [Kushner] about Florida, and he was saying that they [New York] are not going to need that [amount of ventilators]. I was like, look, I actually agree with your numbers. I don't think we need any ventilators in Florida right now."
According to projections from the Institute for Health Metrics and Evaluation, New York has already hit its coronavirus peak. Recent data indicates a total of 300,501 positive cases reported in the state with 23,033 fatalities attributed to the virus.
However, other countries around the world are asking for help from the U.S. to help patients combat the virus.
One of the countries Trump has promised ventilators to is Nigeria, saying Tuesday the U.S. would send "at least 200 ventilators to Nigeria, probably more than that."
"On his part, President Trump assured that the United States stands in solidarity with Nigeria in this difficult time and promised to send ventilators to support the country in its fight against the pandemic." Nigerian Minister of Information Lai Mohammed said on Tuesday.
Trump has also indicated the U.S. would send ventilators to Indonesia, El Salvador, Ecuador, Honduras and Ethiopia.