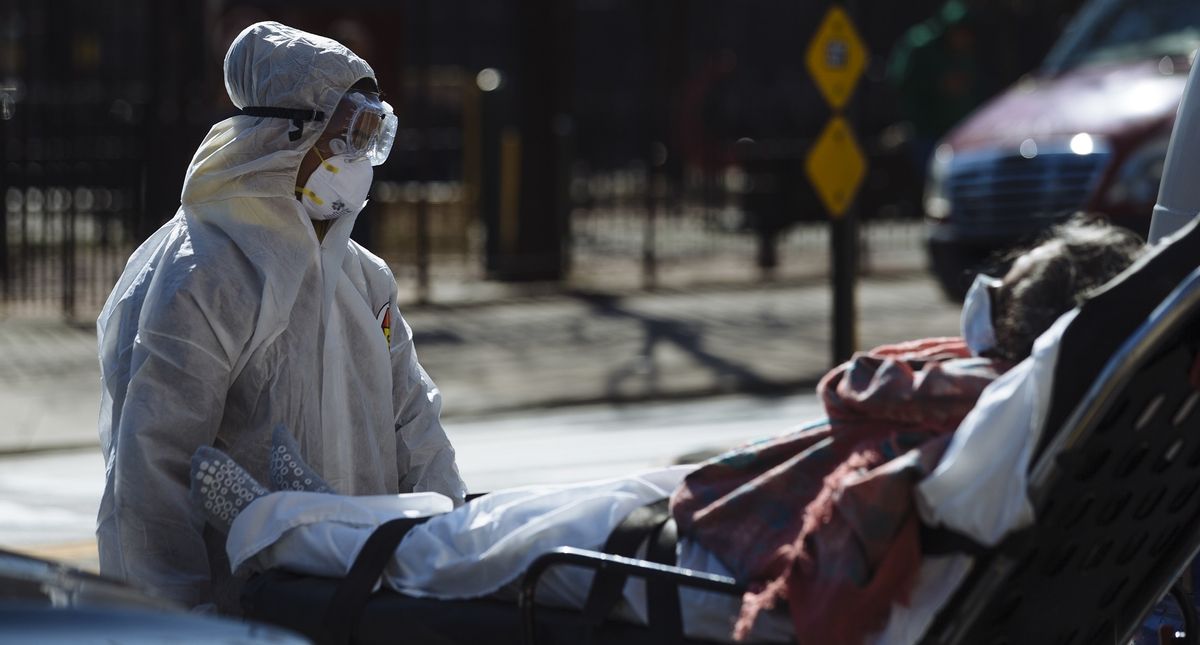 Several media outlets reported Thursday that the U.S. now has more cases of coronavirus than any other country in the world has been hit with, ignoring the fact that numbers from the Communist Party of China — the country from where the virus originated — cannot be believed or confirmed.
Regardless, one journalist reacted to the news of America becoming the new COVID-19 epicenter by asking, "Who's the sh*thole country now?"
What are the details?
On Thursday, The New York Times reported that "in the United States, at least 81,321 people are known to have been infected with the coronavirus, including more than 1,000 deaths — more cases than China, Italy, or any other country has seen," according to their own data.
Julia Ioffe, a correspondent for GQ Magazine, posted The Times' story and asked her 230,000-something Twitter followers in an apparent gloat: "Who's the sh*thole country now?"
Ioffe's "sh*thole country" comment is in reference, of course, to a report from The Washington Post two years ago, which cited unnamed sources claiming that during a meeting about "immigrants from Haiti, El Salvador and African countries" President Donald Trump asked, "Why are we having all these people from sh*thole countries come here?"
Mocking the United States did not go over well on Twitter for Ms. Ioffe. But her post is still proudly posted on her account.
Turning Point USA's Benny Johnson replied, "People are sick and dying. Frontline medical professionals are working 24/7. Americans are risking their lives to help each other. You are a sh*thole person."
Another Twitter user pointed to a Johns Hopkins University and World Bank graph showing that COVID-19 cases per million inhabitants indicate that Switzerland, Italy, Spain, Germany, France, Iran (whose numbers are also disputed), and South Korea all showed higher case counts by that metric than the United States.
That same user also shared a recent Gallup poll showing that U.S. adults overwhelmingly approve of the coronavirus response by U.S. hospitals, their state governments, and their employers by more than 80%. President Trump was given a 60% approval rating in that poll, and Congress was at 58%.
Only the media was given a negative approval rating, at 44%.
This writer's perspective
We all know that the numbers from China aren't accurate, but regarding the topic of this article, it doesn't matter. Cheering on an epidemic in the United States is beneath contempt.
Trying to dunk on President Trump for clicks is one thing. It's a popular thing to do in many circles — I can understand that, and I understand why. But using his alleged words to trash America is disgusting.
We need unity right now, and we need encouragement, and we need optimism. We're seeing it across our country, and there are countless stories of citizens, businesses, and organizations making enormous contributions of time and resources to desperately stave off this epidemic and to help those impacted by it the most.
I'm so proud of my country, even when I'm frustrated with its politics. And I've been even more proud of its people during this crisis. The fact that comments like Ms. Ioffe's are accepted in mainstream media is, to me, an indication of why the media has lost so much respect. Deservedly so.