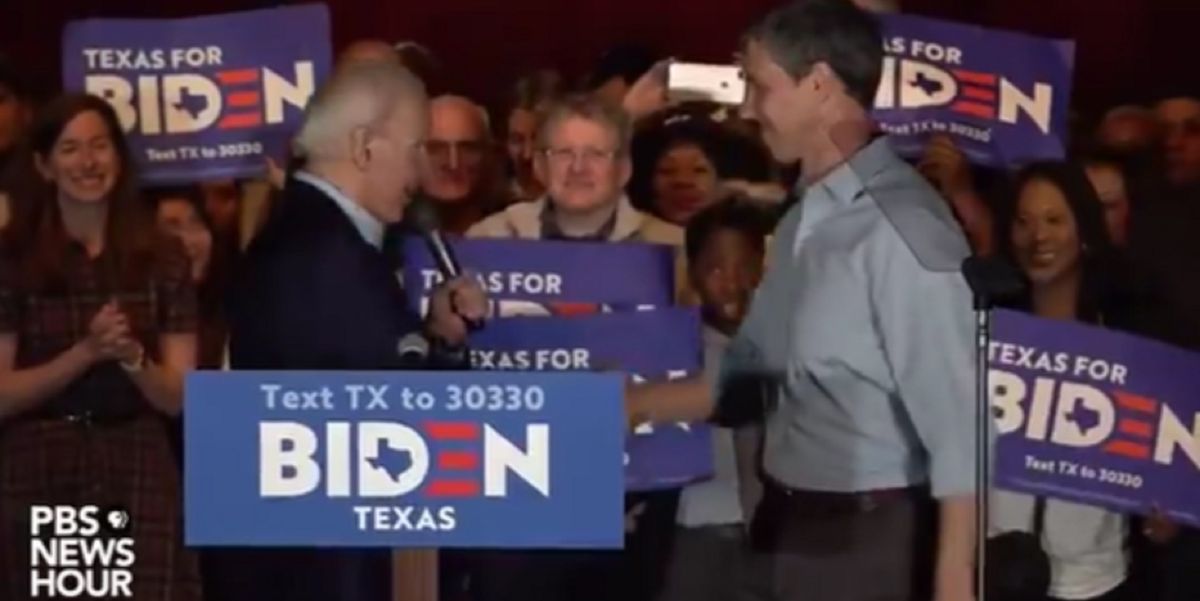 Democratic presidential candidate Joe Biden received the endorsement of former rival Beto O'Rourke on Monday, and apparently he has future plans for the Texan who promised gun confiscation during his failed campaign.
As the two shook hands on stage at a rally in Dallas, Biden told O'Rourke, "You're gonna take care of the gun problem with me."
What are the details?
Biden won the South Carolina primary handily on Saturday, in a revival that simultaneously broke front-runner Sen. Bernie Sanders's (I-Vt.) winning streak and breathed life into the former vice president's campaign ahead of Super Tuesday this week.
At his rally Monday night, Biden enjoyed the endorsements of former South Bend, Indiana, Mayor Pete Buttigieg and Sen. Amy Klobuchar (Minn.), both of whom suspended their Democratic presidential campaigns hours earlier and flew to Texas to join him.
Near the end of the event, O'Rourke appeared on stage in a surprise moment, Fox News reported, to also throw his support behind Biden, telling the crowd, "Ladies and gentlemen, tomorrow, March 3, 2020, I will be casting my ballot for Joe Biden."
After O'Rourke's speech, Biden told his audience, "I want to make something clear: I'm gonna guarantee you, this is not the last you've seen of this guy."
Then, addressing O'Rourke, Biden declared, "You're gonna take care of the gun problem with me. You're gonna be the one that leads this effort. I'm counting on ya. I'm counting on ya. We need you badly—the state needs you, the country needs you, you're the best."
Isn't Beto the gun control guy?
During his short presidential campaign, a major pillar of O'Rourke's agenda was that if he were to make it to the White House, he would confiscate Americans' firearms as part of a broad gun control effort.
At a Democratic primary debate in Sept. 2019, O'Rourke announced to the American public, "Hell yes, we're gonna to take your AR-15, your AK-47, we're not gonna allow it to be used against our fellow Americans anymore."
[embedded content] www.youtube.com